Print Friendly Version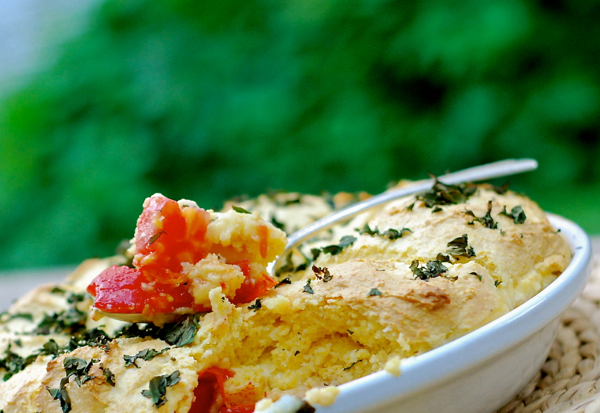 There are so many ways to start using up the gorgeous tomatoes that are growing in your garden this time of year! Or, if you're like me, you take advantage of the heirlooms you can buy at the local farmer's market and farm stands. I talked about my favorite hippie lady in THIS POST and she's still the best resource for tomatoes in my neghborhood. 😉
We love gazpacho, tomato pie, tomato jam, oven-roasted cherry tomatoes, Panzanella salad, bruschetta, and so many other wonderful tomato recipes that make summer cooking such a joy. Here's another favorite that is easy to prepare and really showcases the flavor of those juicy, succulent tomatoes! We love it with grilled steak or chicken, along with a cold, crisp tossed salad.
5 large (or 10 small) tomatoes, chopped
1 Tablespoon cornstarch
2 Tablespoons sugar, divided
1 teaspoon sea salt
1 teaspoon freshly ground pepper
1 cup all-purpose flour
1 cup cornmeal
1 and 1/2 teaspoons baking powder
1/4 teaspoon baking soda
1/2 stick (4 Tablespoons) unsalted butter, cut into chunks
1 large egg, beaten
3/4 cup buttermilk
1/4 cup chopped, fresh basil
1/2 teaspoon onion powder
1/2 teaspoon garlic powder
Preheat oven to 375 degrees F.
Butter a 10 inch, deep-dish, glass pie plate or a 9×9 square, glass baking dish.
In a large bowl, toss the chopped tomatoes with the cornstarch, 1 Tablespoon of the sugar, and the salt and pepper. Set aside.
In the bowl of a large food processor, combine the flour, cornmeal, baking powder, baking soda, reserved Tablespoon sugar, and butter. Pulse until big crumbs form. Add the beaten egg and buttermilk. Pulse until the mixture forms a ball. If the dough seems too dry, and doesn't hold together, add more buttermilk, a Tablespoonful at a time, until it does. If the dough seems too wet, add more flour, a Tablespoonful at a time, until it forms a ball.
Once you have the dough the right consistency, fold in the basil. Drop by Tablespoons onto the tomatoes in the dish, leaving spaces between the dough so steam can escape and the tomato mixture has a chance to thicken a bit. Sprinkle the top with the onion powder and garlic powder.
Bake for 45 to 50 minutes, until crust is golden brown and the tomatoes are bubbling underneath. Cool to room temperature, and serve.
Enjoy!
~Melissa
You may enjoy these related posts: