Print Friendly Version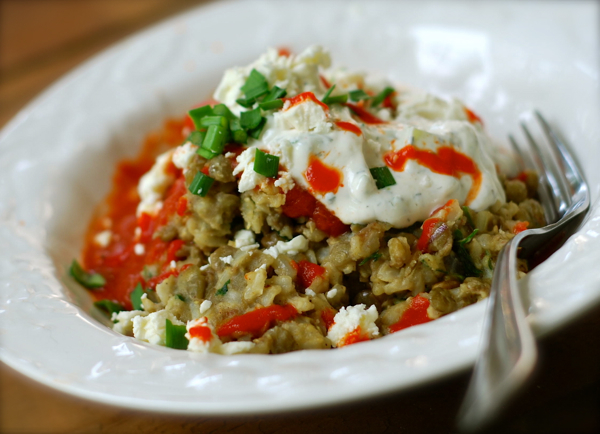 I like making a big pot of rice and beans, whole grain pasta, or quinoa at the beginning of every week so we have a good base for healthy "bowl" lunches.
This makes a bunch so you'll have enough for quick lunches all week or to feed a big crowd (your vegetarian friends will love you!) If you don't want to make a bunch, just cut the recipe in half.
This is super healthy, humble, filling fare. The addition of your favorite spaghetti sauce and tzatziki make it unique and delicious! I hope you love it as much as I do.
6 cups cooked brown rice
1 lb. cooked lentils, drained well
6 cups cooked ditalini pasta, drained well (optional)
1/4 cup extra virgin olive oil + more for drizzling
1 large onion, chopped
12 green onions, chopped (including the green tops)
1 heaping Tablespoon cumin
1 Tablespoon cinnamon
1 Tablespoon onion powder
2 teaspoons curry powder
1 teaspoon freshly ground black pepper
6 cloves oven roasted garlic cloves (peeled)
1/4 cup chopped fresh parsley
1/4 cup Ponzu sauce or lite soy sauce
your favorite, meat-free spaghetti sauce, heated
a fresh batch of homemade tzatziki
hot sauce
feta cheese or chevre, crumbled
snipped chives for garnish
Cook rice and lentils separately, according to package directions for each. If the lentils still have some liquid in them when they're done cooking, drain them. Toss the cooked rice and lentils together in a large mixing bowl, adding a little drizzle of olive oil while mixing.
If you choose to make this with ditalini pasta, cook it according to package directions and drain well. Toss with a little olive oil and keep it separate from the rice and lentils.
Heat the 1/4 cup olive oil in a large skillet. Add the chopped onions to the heated oil and saute until the onion is tender and golden. Add the cumin, cinnamon, onion powder, curry, pepper, roasted garlic cloves and parsley to the sauteed onion mixture and saute an extra minute, until spices are fragrant.
Add the onion mixture, along with the ponzu sauce/soy sauce, to the rice and lentil mixture. Toss gently until evenly combined.
Putting the bowl together:
Place about a cup of the rice/lentil mixture in the bottom of a single serving bowl
Top with a little pasta (optional)
Pour a little spaghetti sauce over the top followed by some tzatziki
drizzle some hot sauce over the tzatziki
Add some crumbled feta or chevre
Top with some snipped chives for a garnish
Enjoy!
~Melissa
You may enjoy these related posts: