Print Friendly Version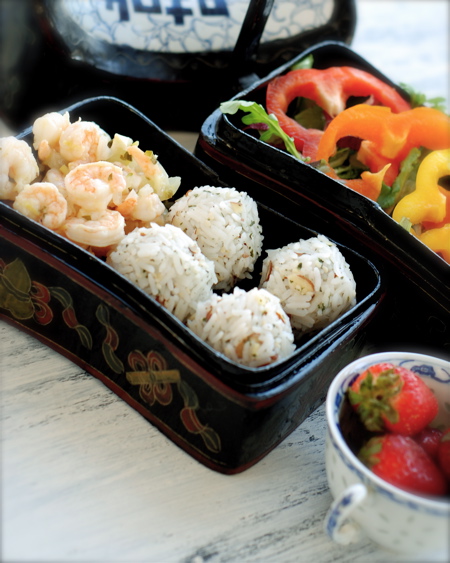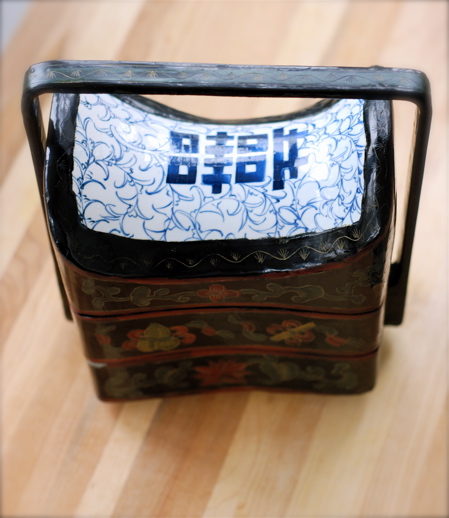 ~ bento lunch ~
I collect cool bento boxes. So far I have six, and five of them are almost exactly the same…but, I'm working on it. This is my most unique and favorite bento and it was given to me by my dear friend Jill as a birthday gift a few years ago when I hosted a "Journey to Japan" themed dinner party to celebrate with my best friends.
This time I made lemon garlic shrimp saute, jasmine Onigiri (filled jasmine rice balls,) a spring green salad topped with three different colors of bell peppers and buttermilk green goddess dressing, and fresh strawberries for dessert.
protein course:
~ lemon garlic shrimp saute ~
Marinade 1 lb. fresh shrimp in a splash of white wine, the juice of two lemons, zest of one lemon, one chopped onion, 2 minced garlic cloves, salt and pepper,  and 1/4 cup fresh basil (chopped fine.) Refrigerate for at least 4 hours. Saute the shrimp along with the marinade until shrimp is pink and the mixture is hot. Spoon into bento. Alternatively you could remove the shrimp from the marinade, skewer and grill for 2 minutes on each side.
starch/ appetizer course:
~ jasmine onigiri ~
1 cup jasmine rice
1 and 3/4 cup water
3 Tablespoons fresh parsley, chopped
3 Tablepsoons toasted sesame seeds or black sesame seeds
handful of sliced almonds
1/2 teaspoon onion powder
assorted fillings (optional)
In a small saucepan bring lightly salted water to boil. Add rice. Cover and cook over low heat for 10 minutes, or until water is absorbed and rice is tender. Cool for 10 minutes. Add the other ingredients. Wet hands with cold water, shape into balls, and fill with a little cream cheese, raisins, pimentos…or anything else you wish. It's fun to play with the flavors here. Onigiri can be sweet or savory, and I like to serve them with assorted dipping sauces. You can also use brown rice in place of the white jasmine rice. The possibilities are endless.
salad/veggie course:
~ spring greens ~
Just toss some spring greens with your favorite veggies and a drizzle of your favorite salad dressing!
dessert course :
~ fresh strawberries ~
Did you know that strawberries are a springtime delicacy in Japan? I like to serve strawberries and strawberry desserts as my dessert course in a bento for this reason…and also because they're my favorite berry. This time I served the strawberries with a little honey nut cream cheese and chocolate syrup for dipping.
Enjoy!
~Melissa
You may enjoy these related posts: