Print Friendly Version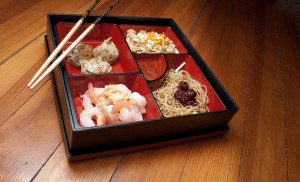 "Let the dishes be fewer in number, but exquisitely chosen." ~Brillat Savarin

A bento box is a Japanese lunch box, in Japan called 'o-bento.' The first time I was served lunch bento style was about six years ago at a restaurant in the Mall of America called "The California Cafe," which, sadly, is no longer in business.
After this experience I decided I needed some bento boxes of my own so I could serve lunch or dinner to my family and friends in this unique and elegant fashion. They come in a variety of shapes and sizes ranging from handsome, lacquered wood to brightly colored "Hello Kitty" models.
They have several little compartments, and sometimes stacked layers, to keep food courses separate. When creating a bento meal the goal is to make the presentation as attractive as possible. Consider color combinations, whimsical garnishes, floral printed or striped chop sticks, and pretty cloth napkins.
There are generally four basic courses presented in a bento box meal. These courses are:
Appetizer Course– eggrolls, dim sum, pot stickers, wontons are some examples of appetizers you could serve in a bento. (In the bento pictured above the appetizer is pork and vegetable pot sticker dumplings, accompanied by sweet and sour sauce in the little center section of the bento.)
Salad Course– any variety of salad, fruit and/or vegetable. (In the bento pictured above the salad is a slaw tossed with sesame oil, soy sauce, honey, sunflower seeds and a little black pepper, garnished with clementine slices.)
Rice or Noodle Course– commonly white rice or soba noodles, but brown rice, lo mein, and sushi also fall into this category, along with any number of other rice or noodle varieties. (In the bento pictured above the noodle course is lo mein tossed with a spicy peanut ginger sauce, and garnished with pepitas and craisins.)
Meat Course– beef, chicken, pork, fish, shell fish, eggs, beans or tofu.(In the bento pictured above the meat course is warm garlic butter shrimp sprinkled with a tiny bit of cayenne pepper.)
My bento boxes have four main compartments, one for each course, and a little center compartment for a condiment such as wasabi, sweet and sour sauce, fish sauce, hot mustard, spicy peanut sauce, or soy sauce.
A couple years ago I hosted a Japanese themed party in my home to celebrate my birthday with my best girlfriends. For more details on this party and for some fun ideas for hosting your own Japanese themed party see my blog entitled "Journey to Japan."
You may enjoy these related posts: