Print Friendly Version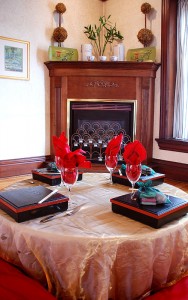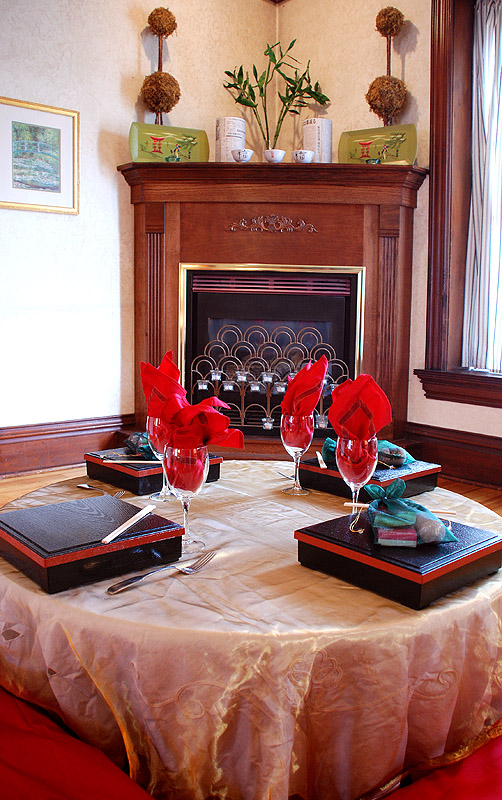 Inviting my best friends to my home for a theme party is one of my favorite things to do. So, a few years ago I decided that every year for my birthday, I would treat myself and my "girls" to this experience. 🙂
Last summer, for my birthday I invited my closest friends to my home to join me for a Japanese themed dinner party. We had so much fun!
To prepare for the party I ordered authentic Japanese bento boxes (which are actually Japanese "lunch" boxes). I had experienced a bento box dinner at a wonderful restaurant at the Mall of America here in Minnesota called "California Cafe." I decided to duplicate this elegant serving style at my dinner party.
Traditionally a bento box has a different little section for each course of the meal. The bento boxes I purchased have 4 compartments. One for a salad course, one for an appetizer course, one for a rice course, and one for a meat/vegetable course. There is a tiny compartment located in the center of the bento box for a desired condiment that will enhance the meal (such as hot mustard, sweet and sour, or fish sauce to go with wontons or eggrolls.) A sample menu for a bento box would be:
Appetizer Course- Eggrolls, dim sum, or wontons with hot mustard and fish sauce
Salad Course- Cole Slaw tossed with mayo, sunflower seeds, a dash of cayenne pepper, a drizzle of toasted sesame oil and honey, and shredded carrots.
Meat/Vegetable course- Cooked chicken or pork chunks tossed with stir fry veggies, Japanese noodles, and peanut sauce.
Rice Course-Sushi is always my first choice…or, brown rice with butter and soy sauce.
I set the table with a golden organza table cloth and the 4 bento boxes, chop sticks and forest green organza party favor bags that held a bag of "Tazo-Zen" tea, a sake-rose votive candle, and the menu as a keepsake.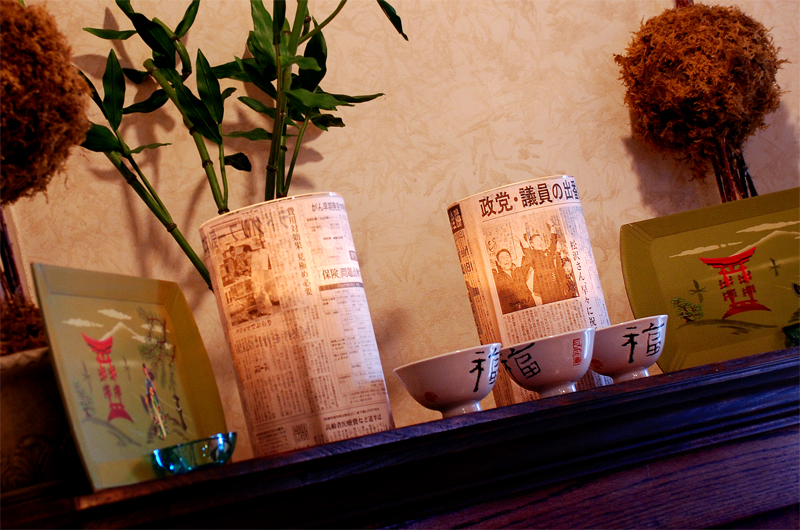 On my fireplace mantle I embellished two large glass cylinder hurricane lanterns with Japanese newspaper (as seen in my book "Welcome Home" on page 47.) I also included a crystal vase filled with faux bamboo. The mantle had a understated "Zen" elegance that set the stage for our "Journey to Japan."
Some other fun ideas for a "Journey to Japan" party would include:
Wear kimonos!
Burn incense.
Set up an indoor fountain. The sound is so relaxing.
Play the soundtrack to "Memoirs of a Geisha"… the perfect background music for this occasion!
Warm, almond or lemon scented washcloths offered to each guest before the meal.
Ice cold sake served in hollowed out cucumber sake cups.
Sencha and green tea ice cream served in authentic Japanese rice bowls for dessert.
Enjoy!
You may enjoy these related posts: