Print Friendly Version
Today we had one of our best friends, TJ, down to our place. We watched Elf, and made up a couple batches of Peanut Butter & Bacon Cookies. We are all bacon enthusiasts and thought the idea of adding bacon to peanut butter cookies sounded interesting. Sooooo, I found a recipe online and we played with it to suit our tastes. So far this is what we've come up with. They're pretty darn yummy. I may try making a maple glaze to drizzle over the tops of them next time we make them.
~Peanut Butter Bacon Cookies~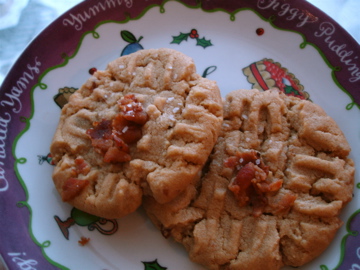 2 cups all-natural chunky or smooth peanut butter
3 Tablespoons bacon drippings
1 cup brown sugar, tightly packed
1 cup granulated sugar
2 eggs
2 teaspoons baking soda
1 lb. bacon, cooked, cooled and diced
coarse sea salt or coarse kosher salt
In a skillet over medium high heat, fry up bacon until cooked through and let cool on paper towels until cool enough to dice.  Dice up and set aside. Preheat oven to 350 degrees F.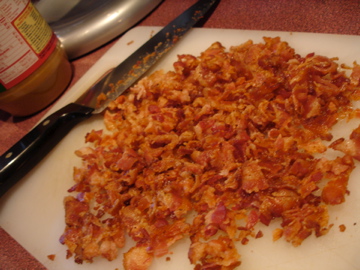 In a mixer, or by hand, combine peanut butter, bacon drippings and sugars until well combined, about 2 minutes. Add eggs and baking soda and mix for another 2 minutes.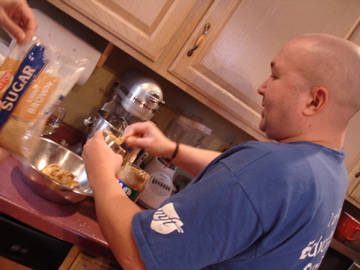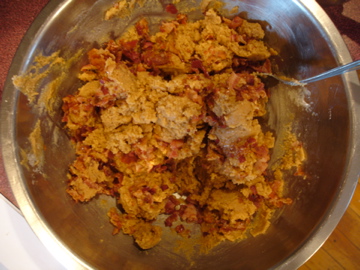 Set aside a little bacon for garnishing the tops of the cookies. Fold in the rest of the cooked bacon.   Roll into large walnut sized balls…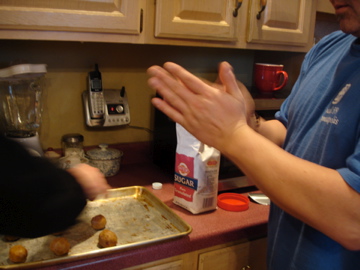 and create a cris-cross pattern with a fork…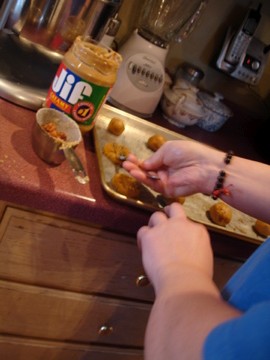 add a little bacon garnish and coarse salt to each cookie…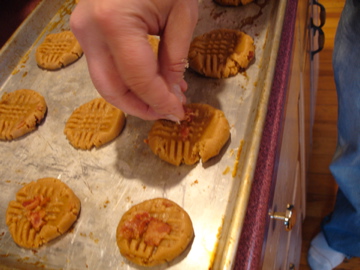 Bake for 10 minutes, until lightly browned. Cool on a baking sheet for five minutes before serving. Will keep in an airtight container for 3 days. Freeze the rest.
Enjoy!
~Melissa
You may enjoy these related posts: