Print Friendly Version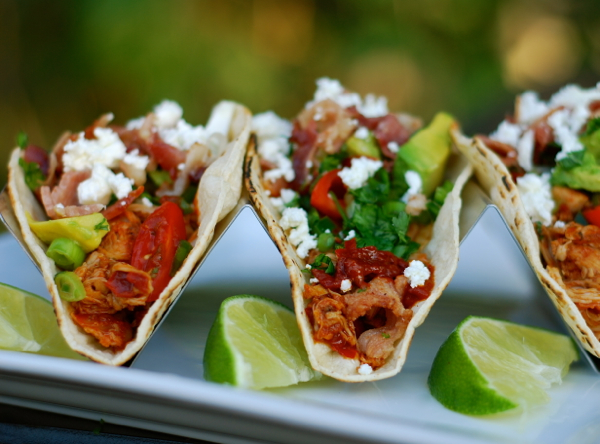 Now that I've developed a few taco recipes for the slow cooker, I've learned a few things. One of those things being to not add a ton of stuff to the meat prior to cooking it. It will get watery and lose most of the flavor of the additions. Wait until the meat is done. Discard the juices from the crock and then add your extra stuff. It's an extra step, but not at all difficult, and well worth it.
This is my favorite slow cooker taco meat yet. It's rich, smoky, spicy, and delicious! The bacon pico topping adds an extra flourish that you'll not want to miss.
3 to 4 lb. boneless skinless chicken thighs
2 Tablepoons smoked paprika
Rub chicken pieces with the smoked paprika. Place in slow cooker. Cook on the LOW setting for 6 to 8 hours, or the HIGH setting for 4 hours. Cook just until meat is very tender and falling apart.
Once meat is done, drain it. Discard cooking juices. Return meat to slow cooker and add:
1 large chopped onion, sauteed until tender and slightly caramelized
2 to 5 chopped chipotle peppers in Adobo sauce (to taste. these are SPICY!)
some of the Adobo sauce from the can of chipotles
1 cup fire roasted, petite diced tomatoes, drained well
sea salt and freshly ground black pepper, to taste
Cover slow cooker and keep on the LOW setting until everything is heated through.
Place on WARM setting until ready to serve.
Make the bacon pico:
12 cherry or grape tomatoes, quartered
1/4 cup cilantro, chopped
1 lb. bacon fried until crispy, cooled, crumbled
4 scallions, chopped (including green tops)
To serve:
heat corn or flour tortillas
fill with:
some of the meat from the slow cooker
bacon pico
avocado chunks
crumbled queso fresco (or cheese of your choice)
a squeeze of fresh lime juice
Enjoy!
~Melissa
You may enjoy these related posts: