Print Friendly Version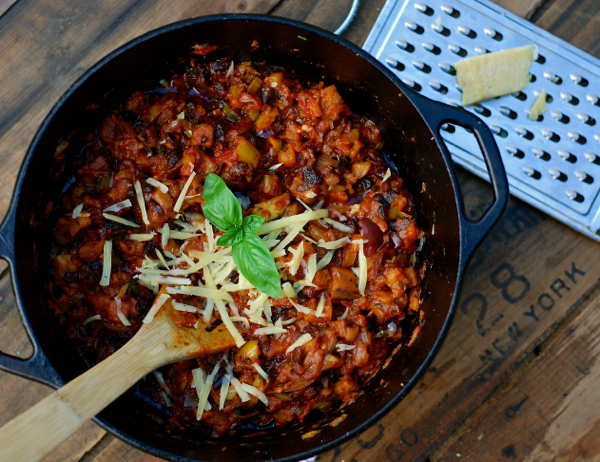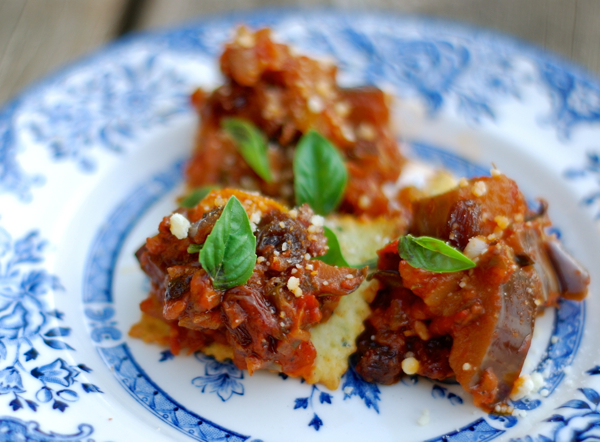 I walked up to the farmer's market at the Red Wing Depot on Saturday morning before Jeff and Grace woke up. I tiptoed around the house, sipping tea, getting dressed, and quickly checking my email before I left. The sun was already making it's way across the sky and it was pretty hot outside for 8AM, but it's always a beautiful walk. The flower baskets that line our downtown streets are in full bloom. Lots of people were out and about, strolling up and down the side streets, eating food truck fare, and looking at the many art stalls set up for our annual River City Days art show. I know I've said this before, and I don't want to be redundant, but I love it here. Sweet river city living.
The market was busy too. I took lots of pictures to share in my next "scenes" post. I bought a bunch of fresh veggies and a loaf of wild rice cranberry onion bread. I had a pretty clear idea in my head of what I wanted to make for dinner that evening, and it came out sooooo good.
I invented a new dish! A cross between two of my favorites. Caponata and ratatouille (Capatouille!). It's a great way to use up some of those garden veggies. It's so fresh, and flavorful. Make it the next time you want a quick, healthy dinner. Your vegetarian friends will love you!
Serve this on crackers or baguette as an appetizer, with your morning eggs and toast, over pasta or rice, as a sauce for French bread pizza, as a sandwich topping, or just one spoonful after the other…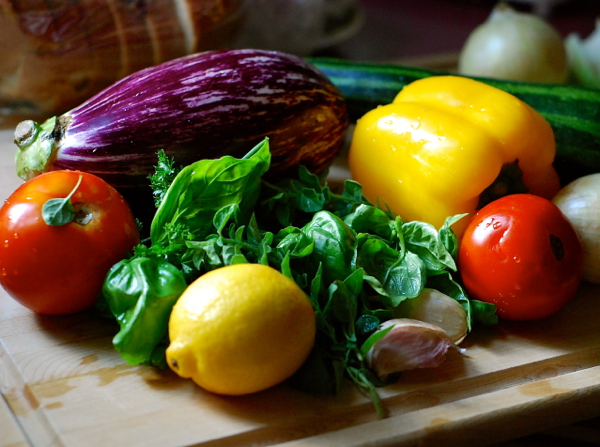 ~ Capatouille ~
serves 6 as a main course or 12 as an appetizer
1/2 to 3/4 cup olive oil
1 large onion
2 ribs celery + green tops, chopped
1 medium eggplant, cut into bite size cubes
1 medium zucchini, cut into little chunks
1 large sweet bell pepper (I used yellow) seeds and stem removed, chopped
3 to 5 large cloves garlic, minced
1 handful fresh basil, chopped fine
1 handful fresh oregano, chopped fine
1 handful fresh parsley, chopped fine
2 Tablespoons fresh thyme leaves
2 large, ripe, juicy tomatoes, diced
1 cup chopped Kalamata olives
1/2 cup raisins or sultanas
1 (6 oz.) can tomato paste
2 Tablespoons red wine vinegar
juice of 1/2 lemon
1 Tablespoon sugar
1 Tablespoon Sambal Oelek (or your favorite hot sauce, to taste)
sea salt, to taste
freshly ground black pepper, to taste
freshly grated Parmesan cheese, to taste
basil sprigs for garnish
Instead of sauteing my veggies in batches, I like to do it all at once. You can't do this in one skillet or your veggies will never caramelize. I accomplish this by getting a couple of skillets and a heavy Dutch oven heating up at the same time. You'll have to pay attention to your pots, but it's worth it for the time you'll save.
Get out two large, heavy skillets and one Dutch oven. Put 3 to 4 Tablespoons olive oil in the bottom of each. Set the flame to medium high. When the oil is hot, place the eggplant in one of the skillets, the zucchini and celery in another skillet and the onion and peppers in the Dutch oven. Watch all the pots, and adjust temperature so the veggies don't burn. Stir frequently. Once everything is slightly caramelized and tender, transfer everything to the Dutch oven. Keep heat under Dutch oven on very low so the veggies are simmering gently.
Add another Tablespoon or two of oil to one of the skillets. Add the garlic and herbs. Cook until garlic is lightly golden and fragrant. Add this mixture to the big pot along with the tomatoes, olives, raisins. tomato paste, red wine vinegar, lemon juice, sugar, and hot sauce. Mix well. Let everything simmer gently for about 15 minutes or until reduced slightly and hot all the way through. Add salt and pepper to taste. Serve with a little Parmesan sprinkled over the top and fresh basil sprigs as a garnish.
Enjoy!
~Melissa
You may enjoy these related posts: