Print Friendly Version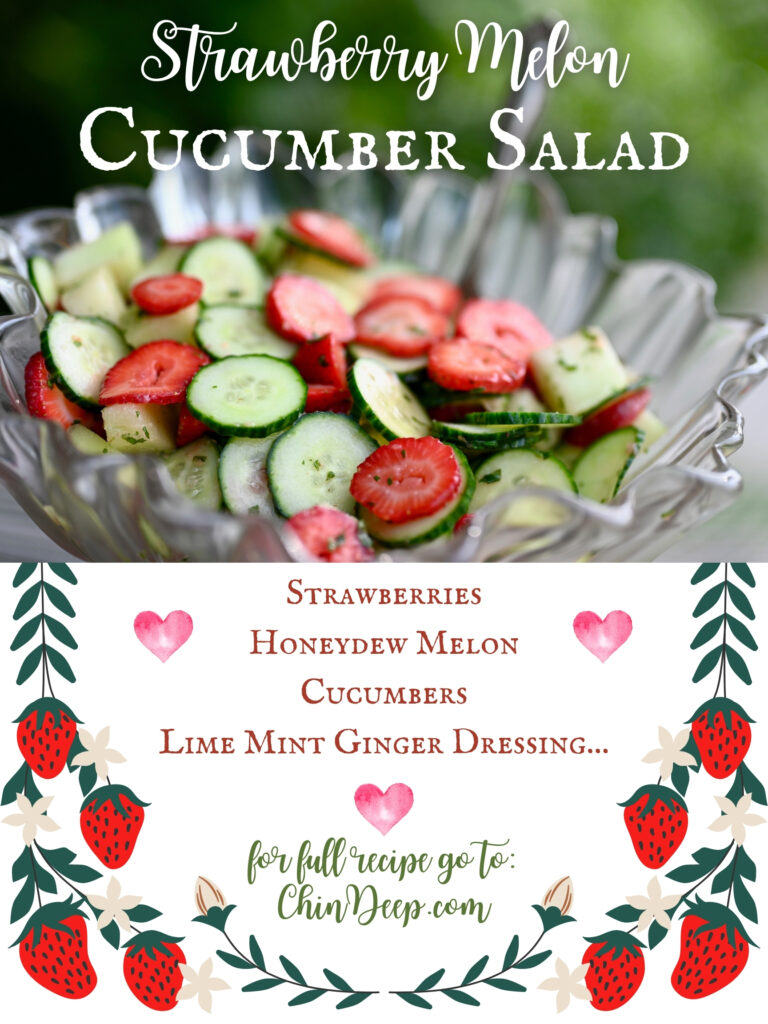 We eat cucumber salad all year long. I make several different varieties of cucumber salad. Some of our favorites are: Grandma's Creamy Cucumber Salad, Grandma's Creamy Italian Cucumber Salad, Asian Cucumber Salad, and Grandma's Creamy Cucumber Macaroni Salad.
Cucumber Salad goes with everything. It really does! And it's so refreshing. It's adds that cold, crunchy element to a meal and offers a nice contrast to hot foods whether it be burgers at a picnic, or a cozy casserole meal at home.
Consider adding a cucumber salad to your Christmas menu for something unexpected and a little different from the traditional fare. Everyone loves it!
For this Strawberry Melon Cucumber Salad, I made a delicious, homemade Mint Lime Ginger dressing that pairs perfectly with the cucumbers and fruit. You may want to make extra. I could drink it like a beverage… It actually does taste kind of like a mojito! 🙂
~ Serves approximately 10 people as a side dish ~
First make the dressing:
Juice of 4 limes (or more, to taste)
1/4 cup sugar
1/4 cup olive oil
1 teaspoon lime zest
1 Tablespoon grated, fresh ginger
a large handful of fresh mint leaves
pinch of salt
Place all in the bowl of a food processor and process until smooth and only little flecks of mint remain.
In a bowl, place:
2 large garden cucumbers (peeled or unpeeled) and sliced thin
1 honeydew melon, cut into chunks (seeds and rind discarded)
30 perfectly ripe strawberries, (sliced and added just prior to serving)
Pour dressing over cucumbers and melon in bowl and gently toss to evenly coat. Cover and refrigerate until ready to serve. Add strawberries and toss again just prior to serving because dressing tends to settle at the bottom of the bowl. Adding the strawberries at the end keeps the salad from changing color.
Feel free to add crumbled feta to this salad. I like it without, but some people really like it with the cheese.
Sprinkle a little sea salt over the top if you wish. A little black pepper is good too. Serve.
Enjoy!
~Melissa
You may enjoy these related posts: