Print Friendly Version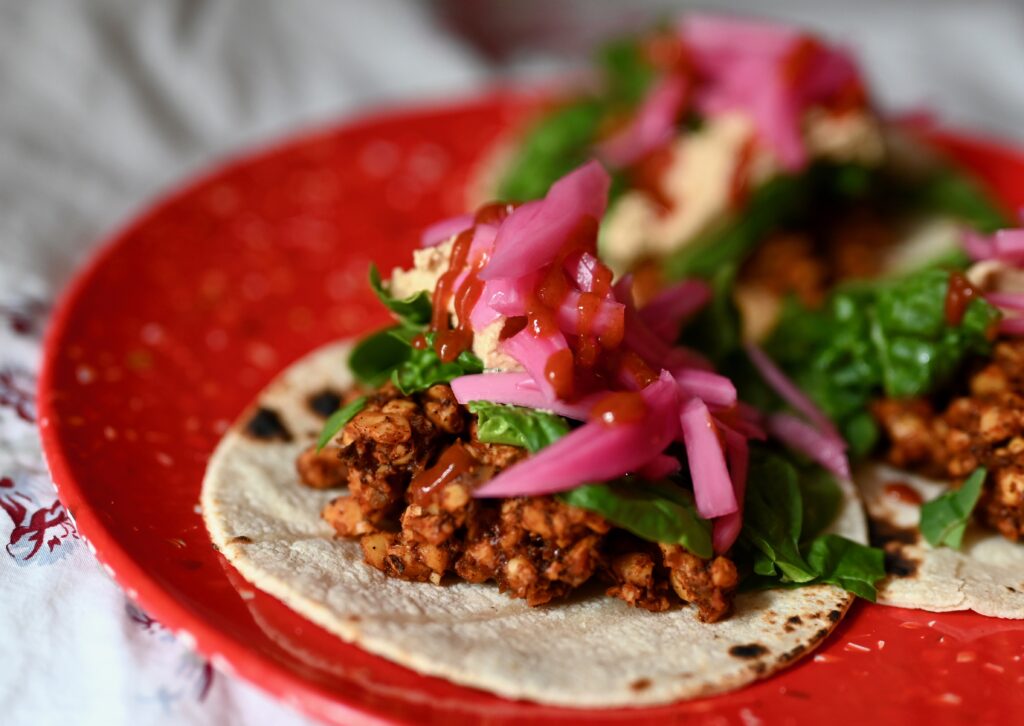 It's Taco Tuesday! But do we ever really need an excuse to eat tacos? There were a couple years where I had tacos for breakfast or lunch ever day. No lie. I'm obsessed.
This is one of the easiest, most delicious recipes for vegan tacos that I've ever made. They go together in like 5 minutes. I topped them with some torn, fresh spinach, pickled red onion, sriracha, zhoug, and cashew cream, but you can dress them up however you like. I might try a pile of kimchi and some cilantro next time.
These would be great with some Mexican Street Corn (Elotes), and some Tex Mex Rice Salad! Or, if you're having a party, make up a big batch of these nachos!
My other favorite recipe for tacos is this one for Vegan Steak Tacos, but it takes a little more time to make because you have to make the vegan steaks first. I promise it's totally worth the extra work though.
For these tacos, feel free to use store bought taco seasoning if you don't want to use all the spices listed below. I like to make my own taco seasoning because that way I can control sodium content.
Makes approximately 10 tacos:
1 Tablespoon olive oil
7 to 8 oz. tempeh, crumbled into little pieces
1 Tablespoon dry oregano
1 teaspoon garlic powder
1 teaspoon onion powder
1 teaspoon smoked paprika
1 Tablespoon chili powder
dash of cumin
1/3 cup salsa
1/3 cup BBQ sauce
corn or flour taco tortillas
assorted toppings
Heat olive oil in skillet. Add the crumbled tempeh and spices. Mix to combine, spread tempeh into an even layer in the bottom of the skillet and let it brown somewhat over medium heat. Toss a couple times and flatten the tempeh in the bottom of the pan again. Once tempeh is slightly browned all over, add the salsa. Cook an additional minute of two. Remove from heat and mix in the BBQ sauce.
Serve on slightly toasted tortillas with your favorite toppings.
Enjoy!
~Melissa
You may enjoy these related posts: