Print Friendly Version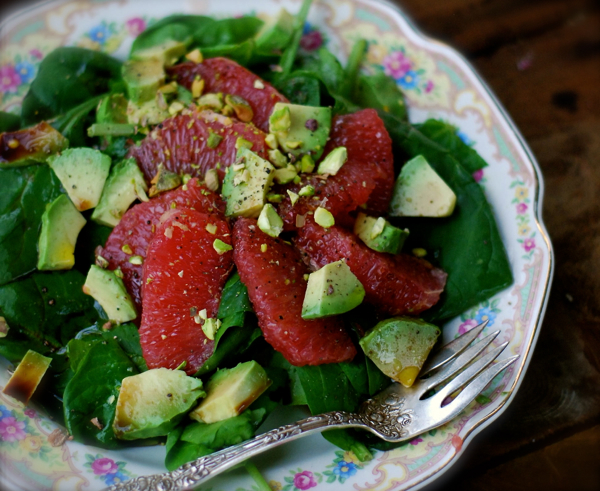 Hello, Lovelies 🙂 It's the beginning of another week and I've already been out in my kitchen preparing new recipes to share with all of you. Lots of new comfort foods, soups, chilis, and even a few sweet treats.
I meant to post the recipe for this easy, healthy salad closer to the Christmas holiday because I just love the colors and think it would make the perfect addition to a Christmas meal. Oh well. It really is pretty any time of year, and it makes an awesome lunch.
for 2 salads:
2 generous handfuls of spring greens or baby spinach
1 large grapefruit, peeled and sectioned
1 large, perfectly ripe Hass avocado, peeled, pitted and cubed
1/4 cup shelled, chopped pistachios
salt and pepper to taste
a drizzle of your favorite balsamic vinaigrette (I made THIS)
Place a handful of spring greens on each of two salad plates. Divide the grapefruit sections, avocado chunks, and pistachios evenly between the two salads. Top each salad with a little freshly ground sea salt and black pepper. Drizzle a little balsamic vinaigrette over each.
Enjoy!
~Melissa
You may enjoy these related posts: