Print Friendly Version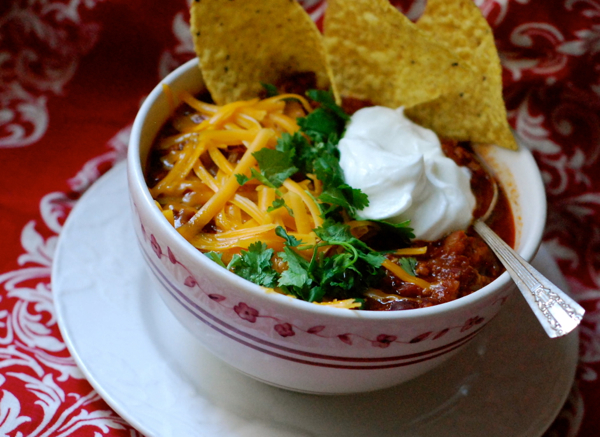 It's bright and sunny outside today which makes me happy. I'm not planning on leaving the house, so the fact that it was 18 degrees below zero when I got up this morning isn't going to make a difference to me. I'm just going to enjoy the sunshine coming through my kitchen and studio windows as I cook and bake and photograph and edit. What's the weather doing in your neck of the woods?
Yesterday I made this awesome Crock Pot/slow cooker chili. I discovered this recipe about a week ago while over on Martha Stewart's website. I've been searching for a good Crock Pot chili for some time now, and after reading the ingredients in this one I knew I had a winner! Jimmy Fallon's chili is spicy, thick and amazingly flavorful. I just love the addition of beer in his recipe. It makes what would otherwise be a very good chili, extra delicious and yummy. Hungry yet? 😉
You may want to watch THIS VIDEO of Jimmy Fallon making his chili on Martha's show before you make a batch yourself. He's so darn funny, and you can see exactly how it's done.
Jimmy's recipe calls for 3 and 1/2 lb. ground chuck. I decided to just use 2 lb. of meat and it still turned out wonderful. I added a 6 oz. can of tomato paste to the chili along with the other tomatoes, because we like our chili really thick.
2 to 3 and 1/2 lb. ground chuck
2 Tablespoons olive oil
1 large white onion, chopped
3 large cloves of garlic, minced
1/2 habanero chili, chopped very fine (I added a chopped jalapeno as well)
1/4 cup chili powder
1 Tablespoon dry oregano
1/4 teaspoon to 1 teaspoon cayenne pepper (depending on how hot you want it)
1 and 1/2 teaspoons cumin (I added 1 Tablespoon)
2 (28 oz. cans) whole, crushed tomatoes OR petite diced tomatoes, undrained
1/3 cup chopped cilantro (plus more for topping)
1 (12 oz.) bottle amber beer
2 (15 oz.) cans kidney beans or chili (pinto) beans, drained well and rinsed, divided
a sprinkle of sea salt and fresh ground pepper
sharp cheddar cheese, grated (topping)
chopped tomatoes (topping)
sour cream (topping)
chopped cilantro (topping)
lime wedges for squeezing over
tortilla chips to garnish and to scoop up chili
Brown the ground chuck in a large skillet, drain it very well, and then transfer it to a 6 to 7 quart Crock Pot/slow cooker. Add the olive oil to the same skillet and heat it over a medium flame. Add onion and garlic and cook until translucent. Transfer onion and garlic to slow cooker. To the meat and onion mixture in the slow cooker, add: the chopped peppers, chili powder, oregano, cayenne, cumin, crushed tomatoes, (tomato paste, if using), 1/3 cup chopped cilantro, beer, and half the kidney/chili beans. Mix well and then mash up the kidney beans a little using a potato masher. Sprinkle a little sea salt and freshly ground pepper over everything in the slow cooker and mix it in. Cover your slow cooker and set it on HIGH for 4 to 5 hours. During the last half hour of cooking, uncover the slow cooker and add the rest of the beans. Allow chili to cook uncovered for that last 30 minutes so it can thicken up even more. Adjust seasonings to taste.
To serve: ladle chili into bowls and top with any or all of the suggested toppings (listed above.) Serve chili with plenty of tortilla chips.
PS… we also added some chopped avocado to our list of toppings and it was awesome!
Thanks for sharing your fantastic recipe, Mr. Fallon! 🙂 XO
Enjoy!
~Melissa
You may enjoy these related posts: