Print Friendly Version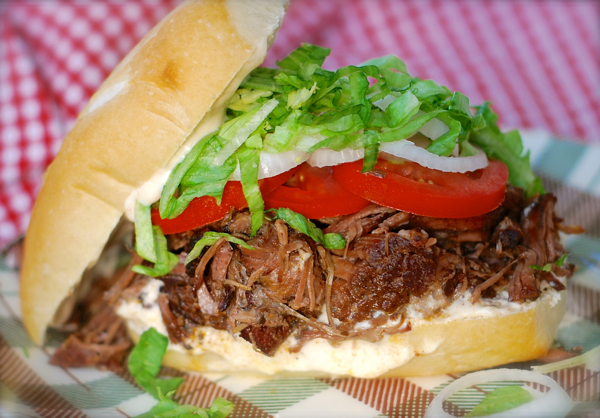 Another slow cooker recipe? You betcha! It's my favorite way to cook in the summer. Minimum effort, maximum flavor! Annnnnd, once again, (I know I've said this a hundred times before) you won't heat up your kitchen! Win, win, win!
If you've ever enjoyed a Baltimore pit beef sandwich you know how juicy good the are. And that tangy, zippy tiger sauce is second to none! I'm so excited to share this awesome recipe with you!
I provide instructions for "marinating" your meat in a seasoned, dry rub for up to a few days prior to slow cooking the beef. This step is optional, but it does lend a deeper, more rich flavor to your sandwiches if you have the time.
3 lb. top round steak OR chuck arm roast
2 Tablespoons Lawry's seasoned salt
1 Tablespoon smoked paprika
1 Tablespoon onion powder
1 Tablespoon garlic powder
1 Tablespoon dry oregano
1 teaspoon freshly ground black pepper
1/4 teaspoon cayenne pepper
Place all rub ingredients in a bowl and mix them up well. Rub them all over the beef. Place in an extra large, heavy duty Ziploc bag. Refrigerate for 24 to 72 hours, turning once a day.
Place the dry-rubbed roast in a 7 quart slow cooker. Cover and cook on the LOW setting for 7 to 8 hours, or just until it's very hot all the way through and shreds easily.
While the pit beef is cooking, make up a batch of tiger sauce and put it in the fridge so the flavors can "marry."
for the tiger sauce:
1/2 cup real mayonnaise
1/4 cup prepared horseradish sauce
1 Tablespoon fresh lemon juice
1 to 2 large cloves garlic, minced
salt and pepper, to taste
 a pinch of cayenne pepper
To serve: Once meat is done, shred it with two forks. Squeeze excess juice out of the meat and pile it on French rolls that have been slathered with some of the tiger sauce. Top with shredded lettuce, thinly sliced onion, and sliced tomatoes. Serve with some of the juice on the side for dipping, if you wish.
Enjoy!
~Melissa
You may enjoy these related posts: