Print Friendly Version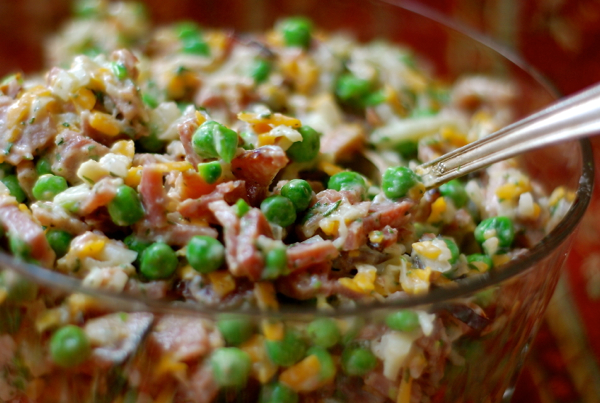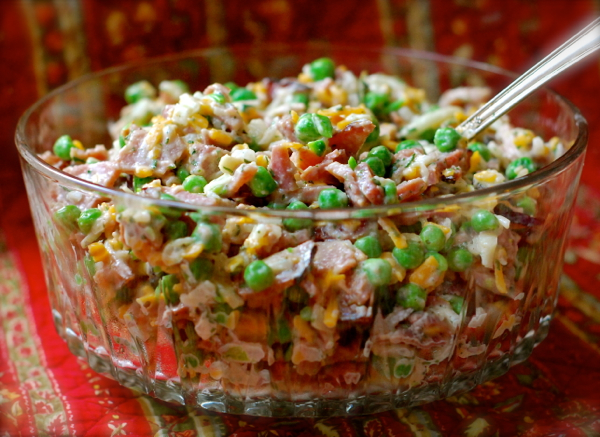 Yummy! This is a delicious, easy salad! It's a great way to enjoy some of that leftover holiday ham that may be residing in your freezer. We love the smoky ham, sweet peas, sharp cheese, and the addition of creamy ranch mayonnaise.
NOTE ***Add the ranch seasoning gradually as to not create a salad that's too salty. I make my own ranch dressing mix and use the full 2 Tablespoons. The "Hidden Valley" brand of ranch powder tends to be much saltier.
for the salad:
12 oz. fresh or frozen peas (thawed and chilled if frozen)
3 cups fully cooked, cold ham, chopped
2 cups cheddar jack cheese, shredded
1/2 cup finely chopped onion
Mix all salad ingredients in a large mixing bowl until evenly combined. Set aside.
for the dressing:
2/3 cup real mayonnaise
2 Tablespoons ranch seasoning mix (click here for my recipe)
1 Tablespoon Dijon mustard
1 Tablespoon white or apple cider vinegar
1 Tablespoon onion powder
2 Tablespoons fresh or dry parsley (chopped fine if fresh)
1 teaspoon garlic powder OR 1 clove fresh garlic, minced
freshly ground black pepper, to taste
Mix all dressing ingredients together in a medium mixing bowl until smooth. Pour over the ham and pea salad. Fold in until salad ingredients and evenly coated.
Cover and chill salad until ready to serve. Will keep in fridge for up to 3 days.
Serves: 6 to 8 people
Enjoy!
~Melissa
You may enjoy these related posts: