Print Friendly Version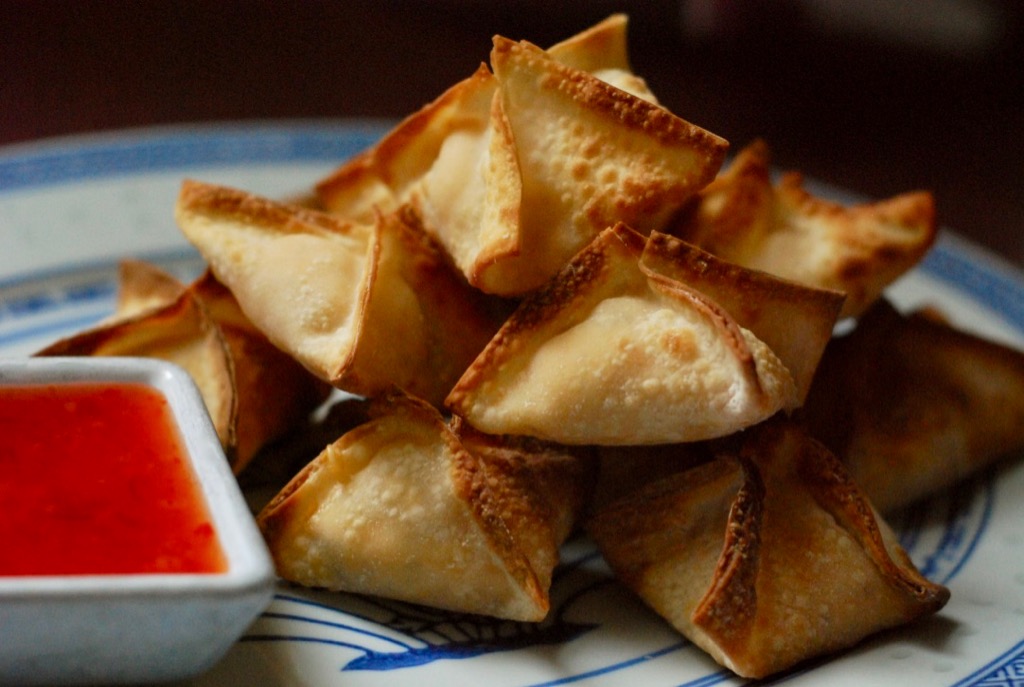 I don't know about you, but I love cream cheese wontons. I used to eat them Crab Rangoon style, but since going vegan I've been making these little yummies and don't miss the other version one bit. I made a big batch of these bad boys for Super Bowl Sunday, but they're good any day. They're so darn easy to prepare, you'll be able to make them whenever the craving strikes! Yay!
What's really cool about these cream cheese wontons is they were made in my air fryer with just a tiny bit of spray olive oil. This little trick cuts the fat content in half! If you don't have an air fryer, these are good baked in the oven too. Same temp, check them frequently so they don't burn.
Anyhoo, I hope you love them as much as we do! Here's the recipe.
Makes 20 appetizers
20 vegan wonton wrappers
3/4 cup vegan cream cheese, room temperature
1 teaspoon lemon juice
1 teaspoon onion powder
1 teaspoon garlic powder
salt, to taste
spray oil
Mix the cream cheese and the rest of the ingredient, except the spray oil (duh.)
Wet edges of wonton wrappers with a little water, one at a time and put a dab of the cream cheese mixture in the center of the wrapper (approximately 2 teaspoons per wonton). Fold them in half and press edges to seal (for triangle-shaped wontons.) Orrrrr… if you want to get fancy with it, fold the wonton wrapper around the cream cheese mixture so all corners meet in the middle (as shown above.) Gently press edges to seal, making sure there are no openings. If you have openings, the cream cheese mixture will escape while the wontons cook.
Place wontons in the basket of your air fryer, in a single layer, and lightly spray them with the oil spray.
Air fry wontons in batches at 350 degrees F. for about 8 minutes. Check them halfway through because some air fryers cook faster than others. You want the wontons to be golden brown and crispy.
Transfer hot wontons to a pretty platter and serve with any or all of the following dips: sweet chile sauce, peanut sauce, apricot ginger jam, Chinese hot mustard, sriracha, and vegan "fish" sauce.
Enjoy!
~Melissa
You may enjoy these related posts: