Print Friendly Version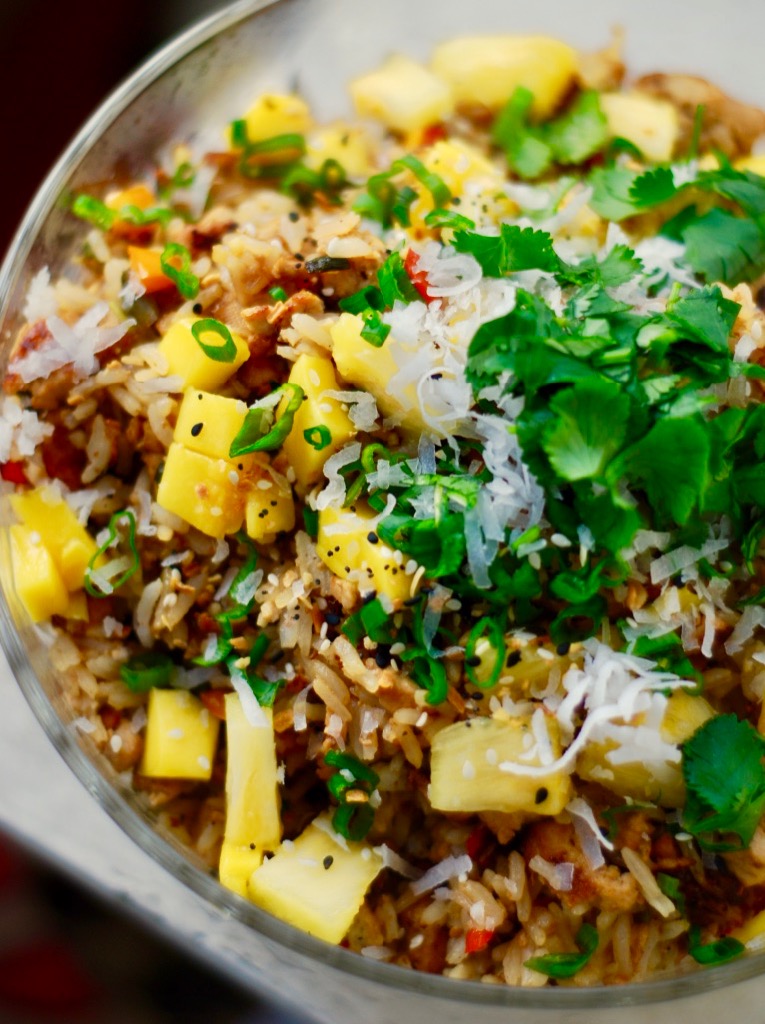 Delicious. Fresh. Healthy. Vegan… The BEST fried rice I've ever had with a touch of juicy, tropical fruit and island flavors.
2 to 3 Tablespoons olive oil, divided
1 lb. tofu, firm or extra firm, coarsely crumbled
1 medium yellow onion, chopped
1/2 cup coarsely chopped, sweet bell pepper (any colors)
3 cloves garlic, chopped fine
2 cups cooked white or brown rice (this time I used white jasmine)
1/2 cup teriyaki sauce (I used Panda Express brand)
1 teaspoon ground ginger or 2 Tablespoons fresh, grated ginger
1/4 teaspoon to 1/2 teaspoon seasoned salt (I used Bamboo Kitchen brand)
1/2 teaspoon freshly ground black pepper
sesame oil, to taste
low sodium soy sauce, to taste
chopped, fresh mango
chopped, fresh pineapple
chopped, fresh scallions plus green tops
chopped, fresh cilantro leaves
coconut, sweetened or unsweetened (whatever you like)
a dash of poppy seeds and/or black sesame seeds for garnish
Place 2 Tablespoons of olive oil in a large, non-stick skillet over medium-high flame. Once hot, add the onion, peppers, and the tofu. Leave the tofu in bigger chunks. Press down with the back of a spatula and allow to brown, approximately 10 minutes, checking from time to time to make sure it's browning and not burning. Once golden brown, gently stir, press down and allow to cook for another few minutes. Add garlic and cook an additional minute. Lower the heat to medium-low and add the rice, teriyaki sauce, agave, ginger, another little drizzle of oil, seasoned salt, and pepper. Stir gently to combine. Press down and allow to cook for about 5 minutes or until heated through. Taste and adjust seasonings as needed. Drizzle with some sesame oil, to taste.
Scoop into bowls and top with the fresh fruit, scallions, cilantro, coconut, seeds, and a little drizzle of soy sauce, if needed. I always add a little Sriracha too, but that's just me.
Enjoy!
~Melissa
You may enjoy these related posts: