Print Friendly Version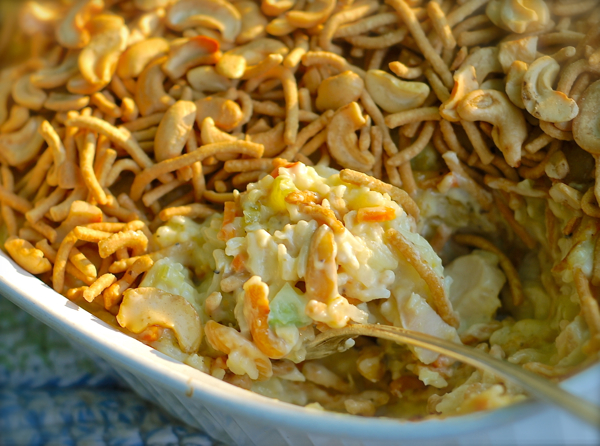 This extra creamy, delicious chow mein casserole is the perfect thing to make when you're in a hurry and craving Chinese food! We serve ours with a little tossed green salad and egg rolls on the side!
Note: To make this meal even more convenient you can purchase a premade deli rotisserie chicken and use the meat from that for the casserole. Just discard the bones and skin. Easy peasy!
~ preheat oven to 375 degrees F. ~
serves 6 to 8
4 cups chicken, completely cooked and cubed
3/4 cup finely chopped onion
1/2 cup finely diced carrot
1/2 cup chopped celery
2 (10 and 3/4 oz.) cans cream of chicken soup, undiluted
1 cup real mayonnaise
2 and 1/2 cups cooked white rice
1 teaspoon garlic powder or fresh minced garlic
1/2 teaspoon freshly ground black pepper
2 cups cashew halves
2 cups crunchy chow mein noodles
soy sauce and hot sauce for serving (optional)
In a large mixing bowl, combine all ingredients except the cashews, chow mein noodles, soy sauce, and hot sauce. Mix well and transfer to a 3 quart, glass casserole dish or 9×13 baking pan.
Bake, uncovered, in preheated oven for 35 to 40 minutes or until hot and bubbly and heated all the way through. Top with cashews and noodles. Serve with soy sauce and your favorite hot sauce if you wish.
Enjoy!
~Melissa
You may enjoy these related posts: