Print Friendly Version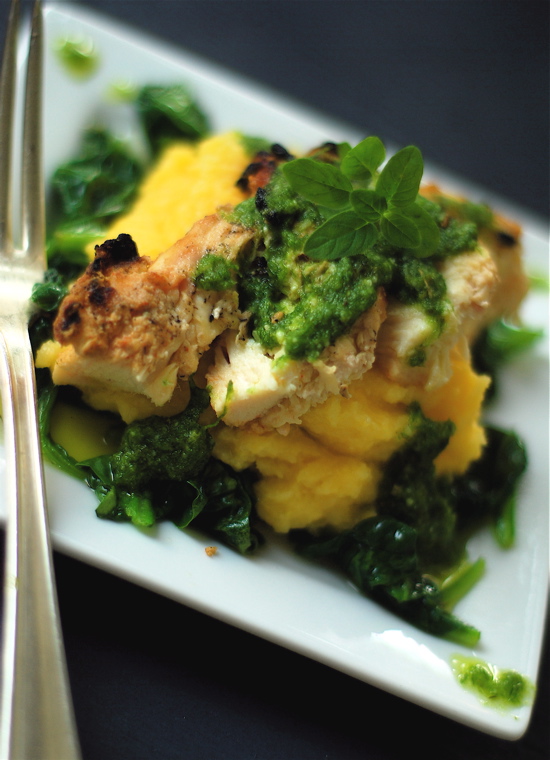 Another recipe featuring grilled chicken and fresh herbs. I made a cheesy polenta on the stove. I like these delicious dinners that don't heat up my kitchen in the summer. The bright flavors of oregano and chive, just picked out of my herb garden, really make this dish shine. Serve it with sauteed spinach, and you've got a complete, healthy meal.
for the chicken marinade:
1/2 cup dry white wine or white grape juice
1/2 cup plain yogurt
2 garlic cloves, minced or 2 teaspoons garlic powder
2 teaspoons smoked or regular paprika
2 Tablespoons fresh oregano-chive pesto (recipe below)
Make long slits in 5 large boneless, skinless chicken breasts without cutting all the way through them. Marinate the chicken in the above ingredients for 2 to 8 hours (the longer you marinate them, the more flavorful and tender they will be.) Grill them and keep them warm under aluminum foil while you put the rest of the meal together.
for the fresh oregano-chive pesto:
a large handful of clean fresh oregano and chives
1/3 cup extra virgin olive oil
1/4 cup freshly grated Parmesan cheese
a few grinds of fresh black pepper
Place oregano, chives, oil, Parmesan and black pepper in the bowl of a food processor or blender and puree until smooth.
Make your favorite recipe for polenta or do what I did and make the instant kind (which I honestly think is just as good and a LOT less work.) I made it according to the package directions and mixed in a little butter, cheddar cheese and Parmesan. Alternatively, you could make the polenta the day before. Chill it in the refrigerator, cut it into pieces, and grill it alongside the chicken. It's great both ways.
Place a little of the sauteed spinach and a dollop of the polenta on each person's plate. Top with the chicken breasts, sliced into strips. Drizzle some of the oregano-chive pesto over the top. Salt and pepper to taste.
Enjoy!
~Melissa
You may enjoy these related posts: