Print Friendly Version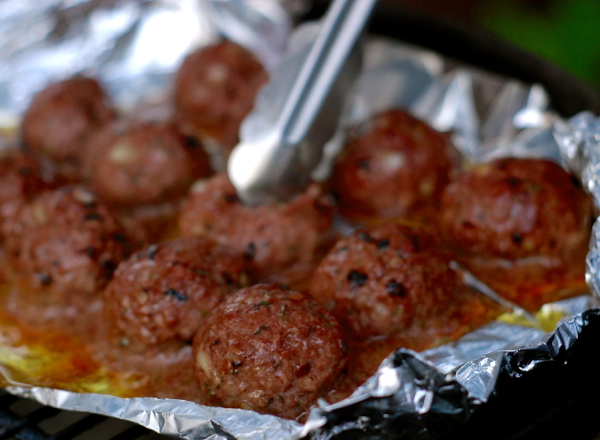 These meatballs offer the wonderful flavors of traditional Italian meatballs and the smoky flavor of char-grilled meat, all in one. They're really easy to make, especially if you grill them on aluminum foil so they don't stick to the grill grate.
We use a charcoal grill for this because charcoal imparts awesome flavor to grilled meat that you can't achieve when cooking on a different type of grill. *Once your charcoal is ready, place it all on one side, creating a "hot" side and "cold" side under the grate. You'll want to place your meatballs over the cool side and cover the grill while they cook.
for the meatballs:
1 Tablespoon butter
1 Tablespoon olive oil
1 large onion
3 large cloves garlic, minced
2 lb. ground chuck
1 large egg
2 Tablespoons dry Italian seasoning
Heat butter and olive oil in a skillet. Peel and chop the onion. Fry the onion in the butter and olive oil until the onion is well browned. Add the garlic and cook an additional minute. Place the cooked onion and garlic in a large mixing bowl along with all the other ingredients. Mix gently using your hands, just until evenly combined. Don't over-mix or your meatballs will become tough. Form into large meatballs (approximately 16.)
Prepare coals (as *noted above.) Place meatballs on a piece of aluminum foil on cool side of grill. You'll know they're done when the temperature reaches 165 degrees when a meatball is tested with a meat thermometer.
Remove meatballs from grill and cover with heavy duty aluminum foil. Allow meatballs to rest for 5 minutes before serving with your favorite pasta and spaghetti sauce, as the topping for hot Italian meatball sandwiches with melted mozzarella cheese, or mixed with sweet-smoky BBQ sauce! YUM!
Enjoy!
~Melissa
You may enjoy these related posts: