Print Friendly Version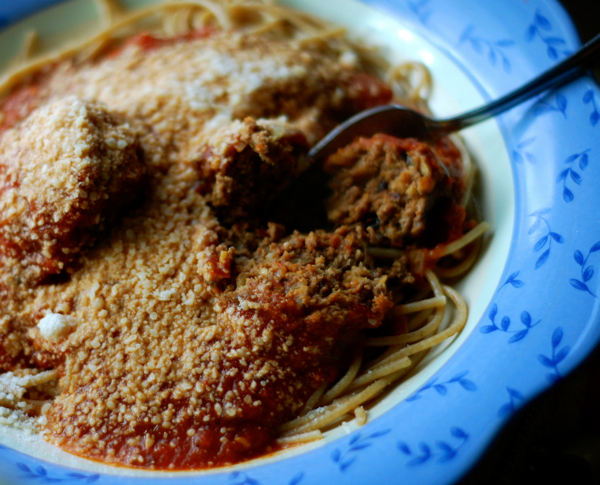 My hubby's recipe for spaghetti sauce is seriously awesome. Don't be intimidated by the long list of ingredients. This goes together fairly quickly and simmers away in the slow cooker until you're ready to eat.
2 (28 oz.) cans crushed Roma tomatoes
1 (18 oz.) can tomato paste
1/2 lb. bacon, fried until crispy and chopped (reserve some of the drippings)
2 cups dry red wine (such as chianti or cabernet sauvignon)
1 cup raisins
1/4 cup fennel
2 Tablespoons dry Italian seasoning
2 Tablespoons dry tarragon
2 teaspoons smoked paprika
1 teaspoon dry sage
1 teaspoon cinnamon
1/2 teaspoon celery seed
1 Tablespoon fresh thyme leaves
3 small onions, chopped
6 medium cloves fresh garlic, minced
1/4 cup extra virgin olive oil
completely cooked, hot, spicy Italian sausage links OR Italian meatballs
Place crushed tomatoes and tomato paste in a large stock pot. Add the fried, chopped bacon. Puree the raisins (mixed with a little of the red wine) until smooth and add them to the stock pot along with the rest of the wine. Stir well. Sprinkle in the fennel, Italian seasoning, tarragon, paprika, sage, cinnamon, celery seed, thyme, half of the onion and half of the garlic, and the olive oil. Stir well.
In a large, heavy skillet, add a few Tablespoons of the bacon drippings. Fry up the reserved onion until translucent, slightly browned and fragrant. Add the garlic and cook for an additional minute. Add this onion/garlic mixture to the stock pot.
Heat sauce to boiling and then transfer it to a 7 to 8 quart slow cooker. Cover and cook on the LOW setting for 3 to 6 hours, or until ready to eat. Add the completely cooked meat during the last hour of cooking time so it gets hot
Serve over your favorite spaghetti noodles in big, single serving pasta bowls. Sprinkle your favorite Parmesan cheese over the top.
Enjoy!
Jeff and Melissa
You may enjoy these related posts: