Print Friendly Version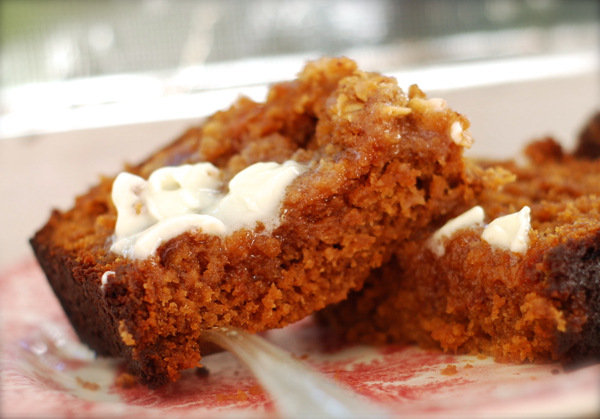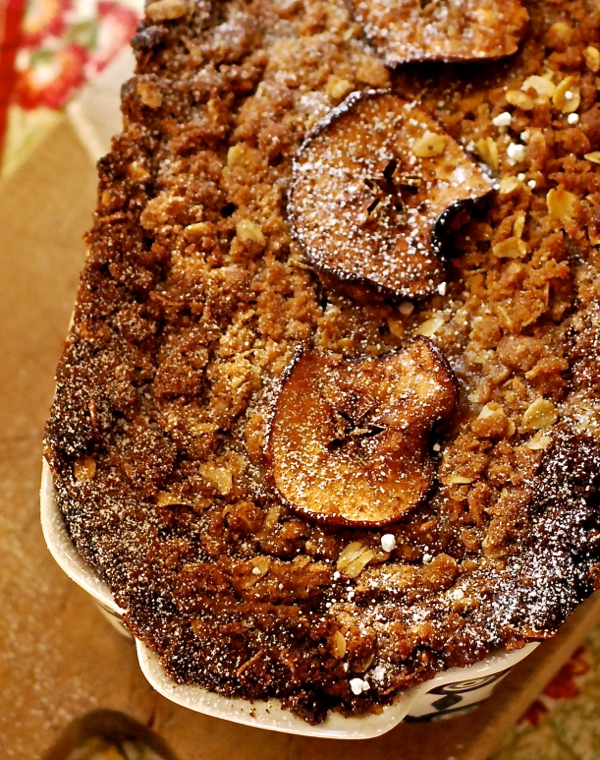 This is one of the best quick breads I've ever made, but the recipe turned out to be a bit tricky. The next time I make it I'll put the ***streusel topping on closer to the end of the baking time so it doesn't get quite so brown. If you like your streusel crunchy like a cookie, then just put it on at the beginning of the baking time and cover the loaf loosely with foil if it starts to burn. Like I said, a bit tricky, but TOTALLY worth it.
~ preheat oven to 350 degrees F. ~
for the bread:
1 and 3/4 cup all purpose flour
1 (3.4 oz.) packet instant vanilla pudding powder (unprepared)
1 Tablespoon baking powder
1 teaspoon baking soda
2 teaspoons apple pie spice
1 teaspoon cinnamon
1/2 cup (1 stick) unsalted butter, melted (or vegetable oil)
1 cup sugar
1 cup unsweetened applesauce
1 cup chopped apple (peeled or unpeeled)
2 large eggs, lightly beaten
streusel topping (recipe below)
Oil an 8×4 inch loaf pan. (Don't use olive oil or butter or it will burn.)
In an large mixing bowl, combine flour, dry pudding mix, baking powder, baking soda, apple pie spice and cinnamon. Use a wire whisk to evenly incorporate all dry ingredients.
In another large mixing bowl, combine melted butter/oil, sugar, applesauce, chopped apple and eggs. Add dry ingredients to wet ingredients and mix just until combined and dry ingredients are moistened.
Pour batter into prepared loaf pan. ***Sprinkle streusel topping over the top of batter, if using. (See note above if you want your streusel to be normal vs. super crunchy.) Place a few thin apple slices over streusel, for a pretty garnish.
Bake in preheated oven for 60 to 90 minutes, or just until a wooden skewer that's been inserted into the center of the loaf comes out with a few moist crumbs. Cool in bread pan for 10 minutes. Remove loaf from pan and transfer to a rack to cool completely before slicing.
~ for the streusel topping ~
1/2 cup packed brown sugar
1/2 cup all purpose flour
1/4 cup rolled oats (not quick cooking)
1/2 teaspoon cinnamon
4 Tablespoons real butter, softened
Combine until crumbly. Sprinkle over bread batter before baking.
Enjoy!
~Melissa
You may enjoy these related posts: