Print Friendly Version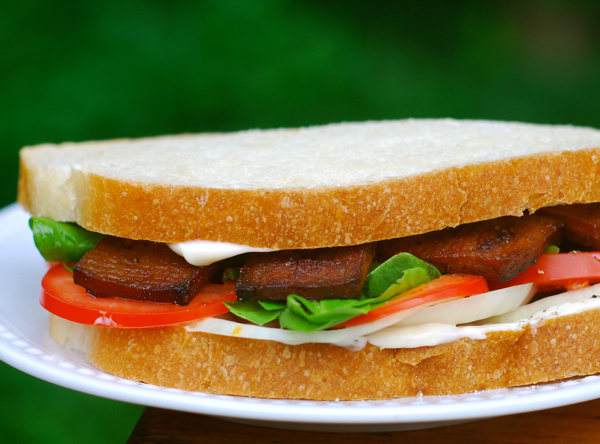 Who doesn't love a delicious BLT in the summer time? It's the perfect dinner for those days when you can't fathom spending more than a few minutes in the kitchen. They're my favorite!
You may notice there's something a bit different about my BLT. Yup. The one pictured above features tofu bacon.
Wait. Where are you going? Don't leave. I know tofu doesn't sound amazing. And tofu bacon? Give me a break. You can't possibly substitute anything made out of tofu for bacon, right? Well….
It's not exactly like pork bacon. Nothing is. There are some pretty convincing substitutes. I'm dreaming about the day that the creators of Slutty Bacon (a vegan food truck) make their vegan bacon available in grocery stores near me. I had some at a food truck festival once and it was really, REALLY good. That stuff tastes like bacon.
Tofu bacon is very delicious. It's smoky, salty, and chewy. It's cholesterol free and cruelty free (yay!) It reminds me of a cross between bacon and beef jerky. It's really good in a sandwich. And if you have some quality sour dough bread, vegan mayonnaise, ripe heirloom tomato slices, crunchy cold lettuce or spinach (or arugula!) and a touch of sweet onion… top it with some salt and pepper… it's darn convincing. This is one of those times that you really shouldn't knock it before you try it. Trust me. You're going to want a batch of vegan bacon in your refrigerator all summer long. Lucky for you it's simple to prepare. Ready?
First make the tofu bacon:
~ preheat oven to 425 degrees F. ~
1/4 cup low sodium soy sauce
2 Tablespoons pure maple syrup
1 Tablespoon liquid smoke
2 teaspoons smoked paprika
a pinch of cayenne pepper
a few grinds of fresh black pepper
14 oz. extra firm tofu (I like Trader Joe's double protein tofu for this)
Press the tofu in advance to remove excess liquid, and then thinly slice it. Mix the marinade ingredients in a small cake pan with a lid. Place the tofu slices in the marinade and allow them to marinate for 15 to 30 minutes (or even over night.)
Line a large baking sheet with a Silpat mat or cooking parchment. Place the tofu slices on the baking sheet so they're not touching.
Bake 15 minutes. Flip. Bake an additional 15 minutes. Brush the slices with the excess marinade as they cook.
The tofu bacon should be dark and dry when it comes out of the oven, so cook it a little longer if you need to. It will crisp up a bit as it cools.
Store in airtight container in your refrigerator. This bacon will keep for up to 10 days.
To reheat it, just throw a little olive oil in a skillet and fry it up for a minute or so to heat it and crisp it up again… or just zap in the microwave for 20 to 30 seconds if you're in a hurry.
To make this "bacon" into a BLT, you know what to do. Get the best quality ingredients you can find, stack it up and enjoy!
Inspiration ~ Other recipes on my blog where I've featured tofu bacon: Cheesy Bacon Fries, Tofu Skillet Scramble, Dill Pickle Pizza, Broccoli Madness Salad, and this Vegan Monte Cristo Sandwich. All soooo delicious!
~Melissa
You may enjoy these related posts: