Print Friendly Version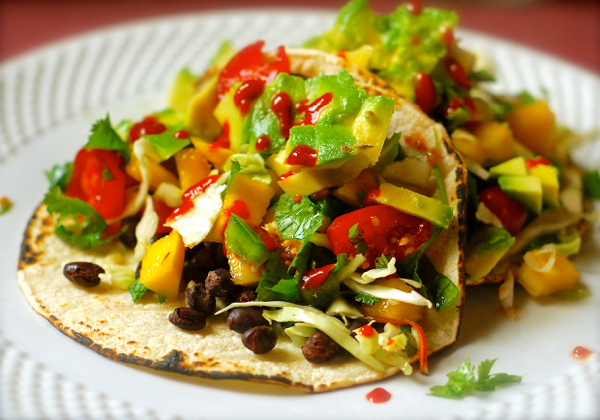 Hello Friends!
I've been enjoying eating (mostly) clean these days. The majority of my meals are whole foods with nothing processed. I love cooking this way. Everything is fresh, vibrant, and delicious.
For this recipe you only need a few minutes, and dinner is done. Whip up a batch of my cashew cream if you're a sour cream fan and see what you think. It's creamy, decadent, and SO good, and way better for you than sour cream.
If you want to eat these all week for your lunches or dinners, you can make up a batch of my black bean mango salad and you're all set.
These are seriously amazing. Ready?
for 6 tacos:
1 (15 oz.) can organic black beans
1 large clove garlic, minced
taco spices (suggestions in instructions below)
1 ripe mango, peeled and cubed
1/2 c. fresh pineapple, chopped small (optional)
1 cup shredded cabbage
18-20 halved grape or cherry tomatoes
1 ripe avocado, peeled and cubed
fresh jalapeno slices (or chopped fine, and seeds removed)
corn tortillas
fresh lime wedges
fresh cilantro, chopped
your favorite taco toppings (salsa, hot sauce, pico, pickled red onion)
Drain and rinse the black beans well. Place in a large mixing bowl along with the minced garlic, mango, pineapple, and cherry tomatoes. Sprinkle in some cumin, chili powder, smoked paprika, salt, and pepper, to taste.
Toast corn tortillas, one at a time, over low flame on your gas stove top, watching closely so they don't burn. Alternatively you could just wrap your tortillas in a couple paper towels and heat them in the microwave for about 30 seconds (just until warm and soft.)
Top toasted tortillas with the black bean mixture, cabbage, avocado, jalapenos, cilantro, cashew cream (if using), and other toppings. Squeeze some fresh lime juice over just before serving.
Enjoy!
~Melissa
You may enjoy these related posts: