Print Friendly Version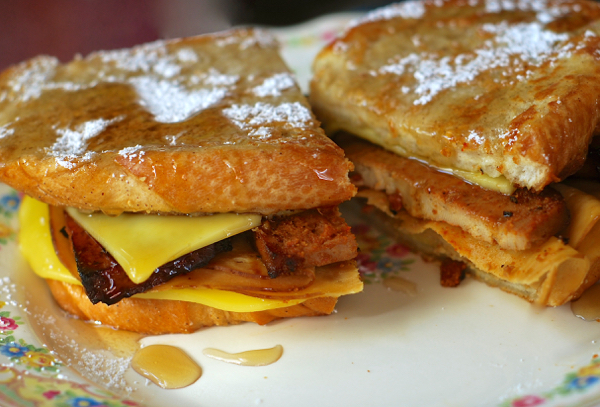 Monte Cristo sandwiches are something I start obsessively craving from time to time.
Since going vegan I have been making this version and they're every bit as good as the original. My smoky tofu bacon tastes a lot like canadian bacon or ham. The Chao cheese is creamy and delicious, and the hickory smoked Tofurky is the perfect fake out for turkey lunch meat.
I love that everything I eat now is essentially made of plants. I eat pretty clean about 95% of the time, but once in awhile I need my vegan "junk" food. And it's nowhere near as "junky" as the fat/sugar/cholesterol/hormone-laden BS I was eating before.
Anyhoo… If you love Monte Cristos and need a splurge, this is the ticket.
For 4 big sandwiches:
1 cup unsweetened soy milk
1 Tablespoon lemon juice
1/3 cup chickpea flour
3 Tablespoons nutritional yeast
2 Tablespoons pure maple syrup
1/2 teaspoon sea salt
1/4 teaspoon cinnamon
pinch of nutmeg
8 slices rustic sourdough bread or hearty Italian loaf
1/4 cup vegan butter, for frying
3 Tablespoons Dijon mustard or horseradish Dijon
3 Tablespoons vegan mayonnaise
12 vegan Chao cheese slices OR Violife provolone
***Tofu bacon slices (recipe below)
16 slices hickory smoked Tofurky
1 Tablespoon powdered sugar
maple syrup and/or strawberry butter for serving
crispy dill pickles to serve with it (trust me)
Using a wire whisk, mix the soy milk, lemon juice, chickpea flour, nooch, maple syrup, salt, cinnamon, and nutmeg in a big, wide mixing bowl. Place two slices of the bread in the batter and allow them to soak for about a minute. (If you're using thicker bread it might be closer to two minutes.) The bread should be well coated, but not over saturated.
Heat a large, nonstick skillet over medium heat and add a Tablespoon of the vegan butter to it so it coats the bottom of the pan.
Place two battered slices in the skillet and cook for approximately 3 minutes, or until golden brown. Flip and put some of the mustard on one slice and some of the mayo on the other. Use 3 slices of cheese for each sandwich, then add some of the tofu bacon and 4 slices of the Tofurky. Cook for an additional 3 minutes, and then assemble the sandwich. Lower the heat and cover the pan with a lid. Cook for another two minutes. You want your cheese to melt, but you don't want to burn the sandwich, so adjust the heat accordingly.
Repeat with the remaining sammys. Plate and sprinkle a dusting of powdered sugar on each one (I use a dry tea strainer for this.)
Serve with maple syrup and/or a combination of vegan butter whipped with some strawberry jam in it. Sounds weird, I know, but I can't have a Monte Cristo without my strawberry butter! I like the tangy contrast of a cold dill pickle with my sweet, salty sandwich too. Don't judge.
***For the tofu bacon:
~ preheat oven to 425 degrees F. ~
1/4 cup low sodium soy sauce
2 Tablespoons pure maple syrup
1 Tablespoon liquid smoke
2 teaspoons smoked paprika
a pinch of cayenne pepper
a few grinds of fresh black pepper
14 oz. extra firm tofu (I like Trader Joe's double protein tofu for this)
Press the tofu in advance to remove excess liquid, and then thinly slice it. Mix the marinade ingredients in a small cake pan with a lid. Place the tofu slices in the marinade and allow them to marinate for 15 to 30 minutes (or even over night.)
Line a large baking sheet with a Silpat mat or cooking parchment. Place the tofu slices on the baking sheet so they're not touching.
Bake 15 minutes. Flip. Bake an additional 15 minutes. Brush the slices with the excess marinade as they cook.
The tofu bacon should be dark and dry when it comes out of the oven, so cook it a little longer if you need to. It will crisp up a bit as it cools.
Store in airtight container in your refrigerator. This bacon will keep for up to 10 days. We love it on BLTs and crumbled up and sprinkled over salads too!
Enjoy!
~Melissa
You may enjoy these related posts: