Print Friendly Version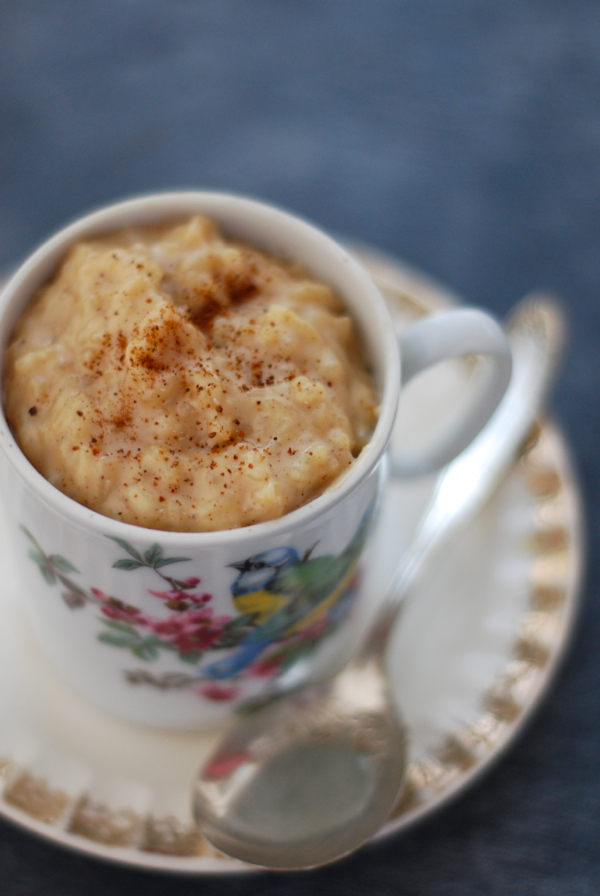 Today was a lovely, lazy day. I had the house to myself and I really didn't do much, which was completely wonderful. I did a little cooking, even less cleaning, lots of reading and tea sipping in front of the fireplace, and I even took a half hour nap. Exactly what I needed to feel completely refreshed.
I made a little pan of this delicious, milky vanilla rice pudding. I love the simplicity of it. Pure comfort food for winter. Bliss.
The secret to good rice pudding is using arborio rice (the same rice used for risotto.) I like my rice pudding very soft and milky…some people like their rice a little firmer. You decide what works better for you. If you like yours a bit softer, just add more hot (about 1/2 cup more) milk toward the end of the cooking time and turn the burner to very low. Cover the pot and stir the pudding occasionally, until it reaches your desired consistency.
1/2 cup arborio rice
1 and 1/2 cups whole milk
1/2 cup heavy cream
1 teaspoon pure vanilla extract
1/2 cup demerara sugar
1/4 teaspoon ground nutmeg
1/4 teaspoon ground cinnamon
pinch of ground cloves
Place all ingredients in a small saucepan over medium heat. Bring to simmer and cook, stirring occasionally, just until rice is tender, about 25 to 35 minutes.
Remove from heat. Place pudding in serving cups or teacups.
Enjoy!
~Melissa
You may enjoy these related posts: