Print Friendly Version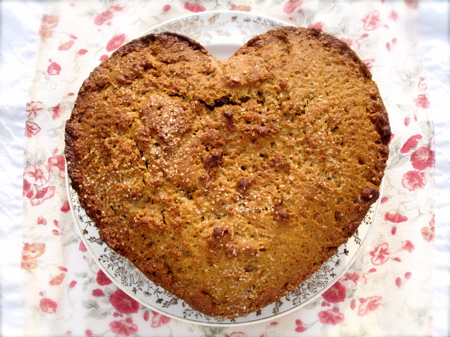 ~ sweet wheat batter bread ~
This is a lovely, sweet wheat bread that is leavened with baking powder and eggs, not yeast. It goes together quickly, smells amazing while it's baking, and makes excellent toast. This recipe has been adapted from the recipe on page 773 in Joy of Cooking by Irma Rombauer. My version has more cinnamon and nutmeg.
preheat oven to 375 degrees F
generously butter a 9 x 5 (8 cup) bread pan
Whisk together thoroughly:
2 and 1/2 cups whole wheat flour
2 teaspoons baking powder
1 teaspoon baking soda
1 teaspoon ground cinnamon
1/4 teaspoon nutmeg
1 teaspoon salt
Whisk together in a large bowl:
1 large egg
1/2 cup molasses
1/4 cup brown sugar
1/4 cup olive oil
1 teaspoon grated orange zest
1 teaspoon grated lemon zest
2/3 cup yogurt or buttermilk
Mix the dry ingredients into the wet ingredients until just combined. The batter will be thick, don't overmix. Scrape into bread pan with a rubber spatula and spread into pan evenly. Bake 35-40 minutes, or until a toothpick inserted into the center of the loaf comes out clean. Allow bread to cool in pan for 10 minutes before turning out onto a wire rack to cool completely.
Enjoy!
~Melissa
You may enjoy these related posts: