Print Friendly Version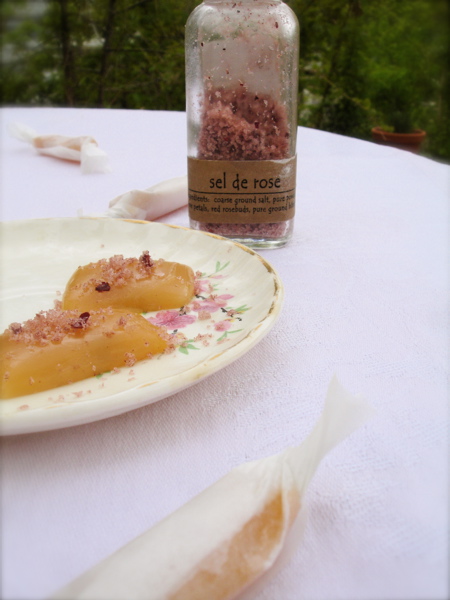 ~sel de rose caramels~
Well, it's not quite time for the roses to bloom yet and I am a tiny bit impatient to make my rose miel (honey) for scones. In the mean time, I decided to cook up a little something with this beautiful rose salt, sel de rose, that my friend Jana gave me as a gift. I've used it on roasted chicken, sea bass, carrot soup, on the rim of my margarita glass when I made mango margaritas…and now in these caramels! You can pick some up at this sweet little shop on Grand Avenue in St. Paul called The Golden Fig. So many pretty, yummy products. You may have to make a trip over there and see for yourself.
This recipe makes about 30 creamy, rose flavored, salted caramels…mmmmm!
1 cup heavy cream
5 Tablespoons unsalted butter, cut into pieces
1 teaspoon sel de rose
1 and 1/2 cups sugar
1/4 cup light corn syrup
1/4 cup culinary rose water
Line bottom and sides of an 8 inch square baking pan with cooking parchment. Lightly oil the parchment.
In a small saucepan, bring cream, butter and sel de rose to boil. Remove from heat and set aside.
In another saucepan, combine sugar, corn syrup and rose water. Stir with a wire whisk until sugar is dissolved. Cook over moderately-high heat and bring to a boil without stirring. Gently swirl pan a few times. Cook until the mixture is a light golden color.
Carefully stir sugar mixture into cream mixture (it will bubble.) Place a candy thermometer on the side of the pan. Stir constantly while the caramel bubbles and until the temperature reaches 248 degrees on the candy thermometer (10-15 minutes.) Pour into the parchment lined baking pan and allow to cool for 2 hours. Cut into 1 inch pieces. Wrap in 4 inch pieces of waxed paper or cooking parchment, twisting ends to close.
Enjoy!
~Melissa
You may enjoy these related posts: