Print Friendly Version
"I'll never forget the first time we saw our Victorian cottage. We knew we were home the minute we walked through the front door. When we stepped out the back door and saw the rose bushes we just knew the house was blessed." ~Melissa Placzek Welcome Home 2004
The first time we saw our house was a day much like today. It was early June and the garden was in bloom. We guessed the previous owners of our house must be rose lovers because they were growing everywhere. About 10 to 15 climbing rose bushes.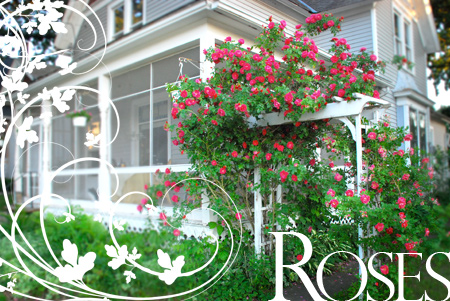 My Rose Arbor

Because I'd never owned or taken care of a garden before, I was a little worried that the roses would die once I took over in this 'new-to-me' garden. Luckily I got to meet and speak with the previous owner when we signed all of our house papers. I asked her how she possibly took care of all the roses? She laughed and assured me that the roses growing in the garden, William Baffin climbing roses, were the heartiest sort. Her exact words, "You could mow those roses down in the autumn, and they'd come back next summer!" 🙂 I immediately liked this woman. I was so relieved that I wouldn't have to babysit plants…which has never really appealed to me. If you have to divide, and mulch, find out the soil's ph, and 'put the plants to bed' for the winter, they are not the plants for me. It's amazing I can keep my annuals (mostly geraniums, petunias, and impatiens) alive for the three months we have summer. The one exception I make is for my herb garden. I like cooking with fresh herbs that I can grow just outside my kitchen door, so the hassle of watering and fertilizing with Miracle Grow is worth it.
"It was roses, roses, all the way,
With myrtle mixed in my path like mad."
~Robert Browning
About those roses…
So, after being in the house for 10 years, and lots of changes to our back yard I still have a few of the original rose bushes that were here when we moved in. One, just outside my kitchen door in the back yard is more like a rose WALL. It grows using a pine tree as a trellis. Some of the branches reach ten feet. I don't do anything to it. It just grows! We have a few more shrub roses lining the side of our deck in lighter pink and white, but the William Baffin climbers are my favorite. We use to have one in the center of the yard that produced so many blooms you could barely see any foliage, but alas we had to sacrifice the rose bush for our big deck project. Our arbor in our front yard has two of the William Baffins climbing on it, and they're so aggressive I fear that the arbor is going to be crushed under them. I call them " the man eating rose bushes." 😉 We're planning on getting a few trellises to attach to the side of our old garage so we can grow more climbers…I just want to make sure that we have our landscaping plan in place before we plant anything new.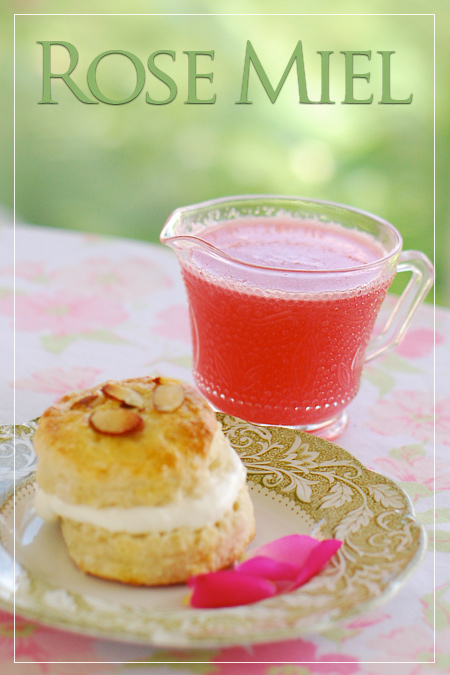 Rose Miel (rose honey) is a favorite topping for scones in our house. When the roses start to bloom I can be found gathering petals. I immediately take them in the kitchen and wash each individual petal carefully to remove any dirt or insects. To make this delicious pink syrup you'll need:
1 cup packed rose petals, washed well
1 cup distilled water
Juice of  one lemon
1/2 cup of honey
1 pouch Certo liquid pectin
In the bowl of a blender, blend the rose petals, half of the water, and the lemon juice until smooth. Heat remaining water and honey in a sauce pan. When warm, add pectin and stir until mixed well. Add pectin/honey mix to the blender contents. Blend again until smooth. Place in jars immediately (about 5-4 oz. quilted jelly jars) If you want it to set up more like a jelly or jam, prepare accordingly. I like the syrup consistency, so I put mine in the refrigerator immediately. Freeze whatever you won't eat or share.
The Perfect Devonshire Split
I'm still deciding whether or not to share my scone recipe. In the mean time…
Split your favorite scone
Fill with real Devonshire Cream or make this Devonshire, which is pretty darn good even if it's not the real thing.( Real Devon is hard to come by in the U.S because you have to use unpasteurized cream to make it.)
Leisa's Tearoom Devon Cream
Whip a pint of heavy whipping cream until stiff peaks form
Add 8 oz. softened cream cheese and 1/4 cup powdered sugar. Whip again.
Pile high onto scone. Top with your favorite lemon curd, preserves, or Rose Miel…
Enjoy with a cup of Harney & Sons Rose Tea.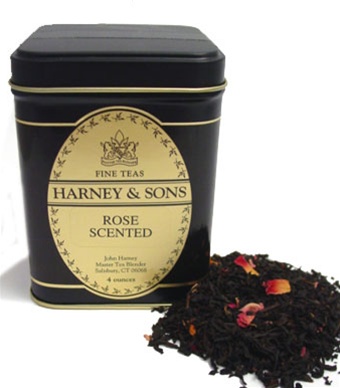 How does your garden grow?
~Melissa

You may enjoy these related posts: