Print Friendly Version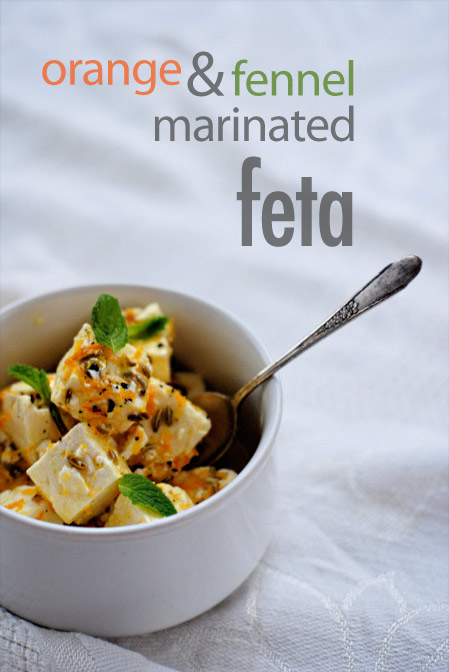 ~ orange and fennel marinated feta ~
I discovered this lovely recipe in Ellie Krieger's cookbook, The Food You Crave, and immediately fell in love. She incorporates some of  my favorite flavors into one cute little appetizer. Slight problem though. The original recipe says to skewer a mint leaf, then a chunk of cucumber, next a green olive, and finally a cube of feta that is suppose to play nice and sit flat on the plate. Well, all would have worked out swimmingly had the feta cooperated. Instead, the feta wanted to split down the middle every time I pierced it with a skewer. This resulted in me running around like a nut trying to take a picture of these (BEAUTIFUL) skewers before they fell over. I felt like Lucille Ball. Oh. And the poor cheese. You have never heard so many expletives flung at a dairy product. Poor little cheese cubes. (son of a…)
Anyhoo…I decided to give up on the idea of the beautiful skewer. First of all, I don't like to post recipes that didn't actually work for me, with a gorgeous picture attached, as if they had. I am, after all, not Martha. 😉 Not that I don't LOVE her. I do. I have also made several dozen of her recipes that have not turned out and I am quite sure that it wasn't my fault. But, I digress.
So, here you have my version of Ellie's recipe. I have the sneaking suspicion that she used way bigger cheese cubes than the recipe would have you believe. Either that or the girl has magic cheese.
2 teaspoons fennel seeds
3-4 teaspoons finely grated orange zest
juice of one half orange
2 Tablespoons extra virgin olive oil
1 teaspoon cracked peppercorns
4 oz. feta cheese cut into 20, 1/2 inch cubes (or bigger!)
24 fresh mint leaves, muddled with the orange juice, more for garnish
24 pitted green olives
1/4 large English cucumber, sliced thin
In a medium bowl, combine the fennel seeds, orange zest, orange juice, olive oil and pepper. Gently stir in the feta and marinate for 1-3 hours in the fridge.
Return the cheese to room temperature (place on counter) one hour prior to serving. Serve with the olives, cucumber slices, mint leaves, a sprinkle of sea salt and a drizzle of the marinade on your favorite crackers or French baguette.
Enjoy!
~Melissa
You may enjoy these related posts: