Print Friendly Version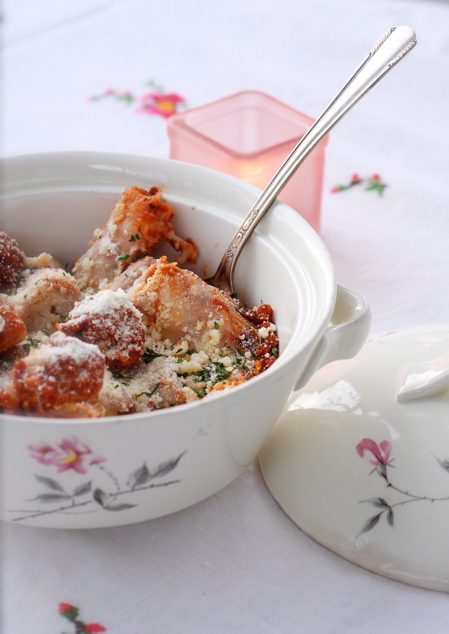 ~ baked rigatoni & meatballs ~
Jeff and I made this last night for date night. It's an easy, romantic meal. Perfect for dinner in front of the fireplace, with a lovely bottle of wine, while the snow is falling outside. You can make this totally from scratch if you like…make your favorite homemade meatballs and sauce! or…make it easy by using pre-made meatballs and your favorite sauce in a jar. Your call.
serves 6-8
1 lb. cooked meatballs
8 oz. rigatoni noodles
3 strips of bacon
1 red bell pepper, cored and chopped
1 green bell pepper, cored and chopped
1/2 small onion, coarse chopped
24 oz. marinara sauce
1/4 cup tomato paste
1 and 1/4 cup red wine
1 Tablespoon fennel seeds
8 oz. grated mozzarella cheese
1/2 cup grated Parmesan cheese
Generously oil a 3 quart casserole dish with olive oil. Cook the rigatoni according to package instructions, until nearly al dente. Drain the pasta and place in a big bowl. Toss with a little olive oil to prevent sticking. Dry pasta pot. Add the bacon and cook until crispy. Remove bacon to a plate. Saute the peppers and onion in the bacon drippings for about 10 minutes, until peppers and onion are tender. Stir in the marinara, tomato paste, red wine, fennel, meatballs and crumbled bacon. Stir over low heat until sauce is heated through and slightly reduced. Remove pot from heat and stir in the rigatoni. Spoon into prepared casserole pan and sprinkle with mozzarella and Parmesan cheeses. Bake at 350 degrees F. for about 20 minutes, until sauce is bubbly and cheese is melted.
Enjoy!
~Melissa
You may enjoy these related posts: