Print Friendly Version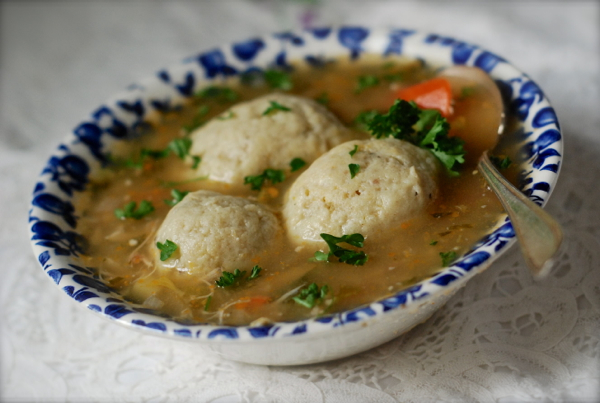 This has most definitely been the winter of soup! I've been enjoying the process of creating new soup recipes and sharing them with all of you… annnnnd, I have a very special project in the hopper. Eep! Wait for it…. 😉
This is such a lovely, elegant soup. Jeff and Grace love it. There's something so comforting about a house that smells like chicken soup as it simmers on the stovetop.
If you want to make matzo balls that are as light as air, make sure you separate the eggs and whip the egg whites until fluffy prior to mixing up the matzo ball dough. Also, most matzo ball recipes call for way too much matzo meal/matzo ball mix. Use as little as possible, just so those matzo balls stick together.
for the chicken soup stock:
1 (5 lb.) whole, fresh roasting chicken (giblets removed and reserved for another purpose)
1 Tablespoon smoked paprika
1 Tablespoon dried onion
1 Tablespoon garlic powder
1/2 cup of fresh thyme sprigs
1/2 cup of fresh dill sprigs
sea salt and freshly ground black pepper
Place all ingredients in a large stock pot. Cover with water. Bring to boil. Reduce heat to a very gentle simmer. Cover stock pot with lid slightly askew, and allow to simmer for 6 to 8 hours.
Once the 6 to 8 hours is up, remove the chicken from the stock and allow it to cool. Place it in a large ziploc bag. Refrigerate over night.
Cool the stock by placing the whole stock pot in a sink filled with ice. Once it's cooled, place stock pot in refrigerator over night.
The next day, remove skin and bones from chicken and discard. Shred chicken.
Scrape the fat from the top of the soup stock and reserve it for the matzo balls. Remove 2 cups of the stock (for making matzo balls) and return the rest of the stock to stovetop.
Bring to boil and add:
the whole, shredded chicken
1 to 2 large onions, chopped
6 carrots, peeled and sliced on the diagonal
2 stalks celery, chopped
2 large parsnips, peeled and chopped
Reduce heat and simmer until all veggies are tender (30 to 60 minutes.)
for the matzo balls:
4 large eggs, separated
1/2 cups chicken stock/broth + extra for cooking matzo balls
1/4 cup of the reserved chicken stock fat
2 teaspoons sea salt
1 cup Manischewitz matzo meal or Manischewitz matzo ball mix
Whisk egg yolks, chicken stock, chicken fat and salt. Stir in the matzo meal/matzo ball mix.
Using an electric mixer, whip egg whites until stiff. Whisk them into the matzo meal/egg yolk mixture just until evenly distributed. Refrigerate for 30 minutes.
Form into balls the size of ping pong balls. Drop into gently simmering stock. Cover and cook for 30 minutes or until puffed and cooked all the way through. Remove and serve in hot chicken soup. Garnish soup with freshly chopped parsley.
Enjoy!
~Melissa
You may enjoy these related posts: