Print Friendly Version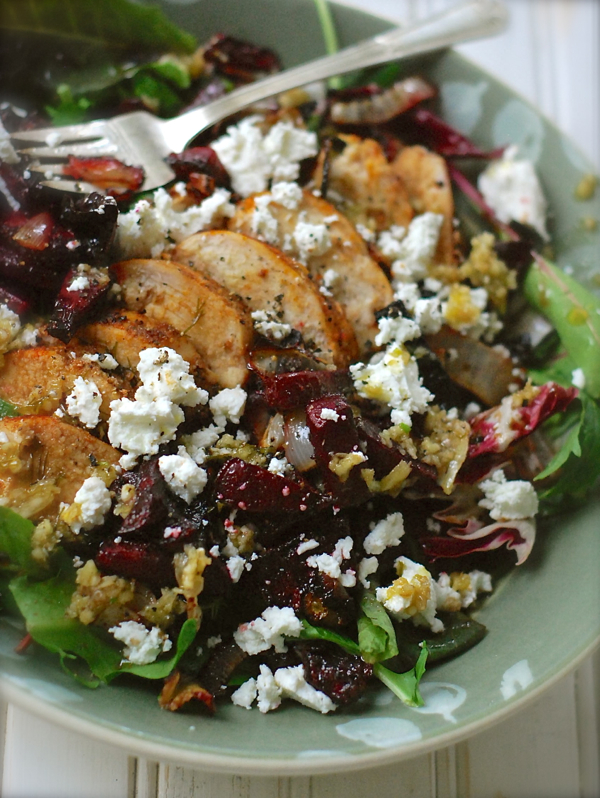 We always have cold grilled chicken in our refrigerator in the summer so we can make salads at a moment's notice. Jeff just grills up extra and we store them in ziplocs. Another easy tip that will help you prepare dinner more conveniently, and without heating up the kitchen.
To make 2 of these crazy delicious salads, you'll need:
4 cups fresh spring greens, arugula or baby spinach
2 medium beets, oven roasted according to these directions
2 medium chicken breasts, grilled or baked and chilled
4 oz. mild chevre (goat cheese), crumbled
freshly ground black pepper
coarse sea salt
sherry vinaigrette (see recipe below)
sherry vinaigrette:
1/3 cup extra virgin olive oil
1/4 cup balsamic vinegar
2 Tablespoons dark, toasted sesame oil
2 Tablespoons cream sherry
1 large garlic clove, minced
Place salad greens in each of two bowls. Top with: oven roasted beets, chicken breasts cut into strips, chevre, salt and pepper.
Combine all salad dressing ingredients in a canning jar. Cover tightly and shake to mix. Drizzle desired amount over salads.
Enjoy!
~Melissa
You may enjoy these related posts: