Print Friendly Version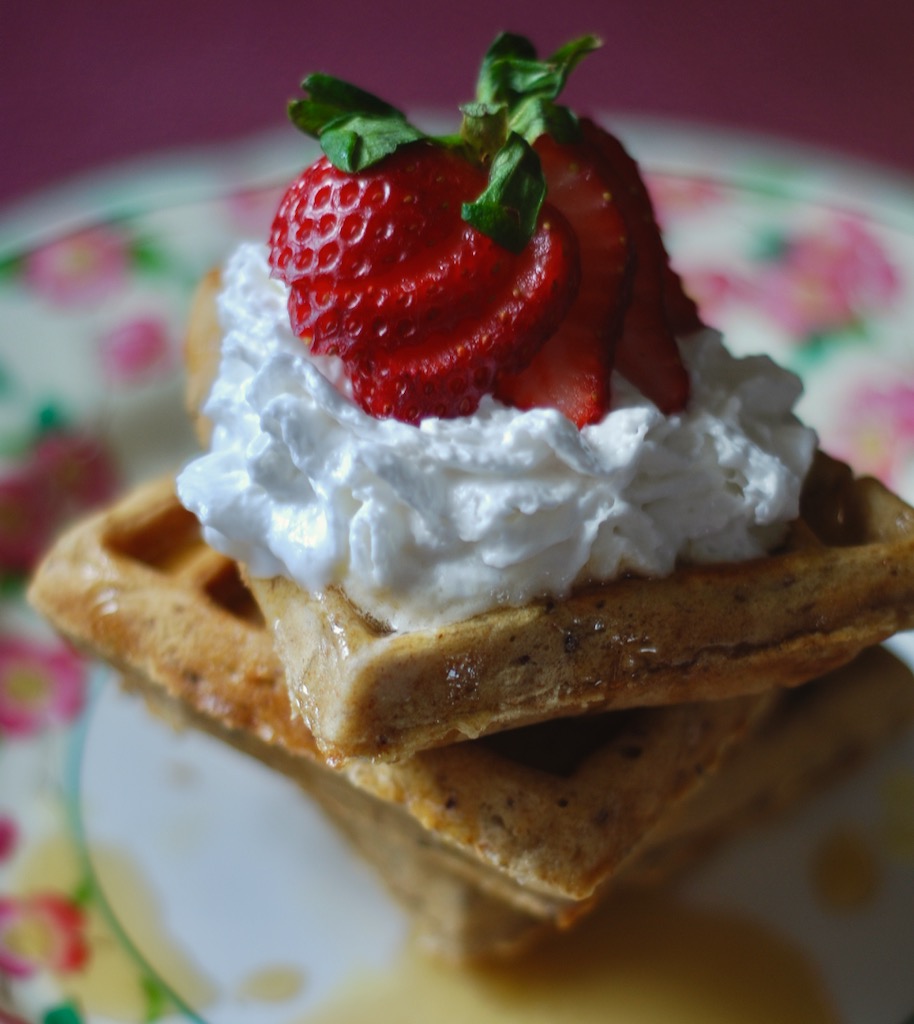 This is the time of year when I like to make cozy weekend breakfasts. We turn on the fireplace, sip tea, listen to music, and relax.
These waffles are perfect for a cozy breakfast. We like them with tofu scramble, Field Roast Apple Sage sausages, and hash browns.
You can top these with whatever you like. This time we used vegan butter, pure maple syrup, coconut whipped cream, and fresh strawberries. They're also amazing with blueberries and lemon syrup… or chocolate chips, pecans, and caramel… The possibilities are endless. What are your favorite waffle and pancake toppings?
Once again, this is a vegan recipe, so it's great for anyone who is following a cruelty free lifestyle, or anyone with egg or dairy allergies.
~ makes 4 to 6 servings ~
2 cups almond milk
1 Tablespoon cornstarch
1 Tablespoon apple cider vinegar
2 cups all purpose flour
3 Tablespoons sugar
1 Tablespoon baking powder
1/2 teaspoon sea salt
1/4 teaspoon nutmeg
1/3 cup water
2 Tablespoons vegetable oil or melted vegan butter
1 teaspoon pure vanilla extract
In a small bowl, using a wire whisk, combine half the milk and the cornstarch until completely dissolved.
Once combined, add the rest of the milk and the apple cider vinegar. Set aside.
In a large mixing bowl, combine: flour, sugar, baking powder, salt, and nutmeg. Make a well in the center of these dry ingredients.
Add milk mixture to the dry ingredients, along with water, oil, and vanilla. Mix until mostly smooth. A few lumps in the waffle batter is fine. Allow batter to rest for 10 minutes.
Cook waffles according to waffle iron instructions, making sure to liberally spray waffle iron with non-stick cooking spray in between cooking each waffle.
Enjoy!
~Melissa
You may enjoy these related posts: