Print Friendly Version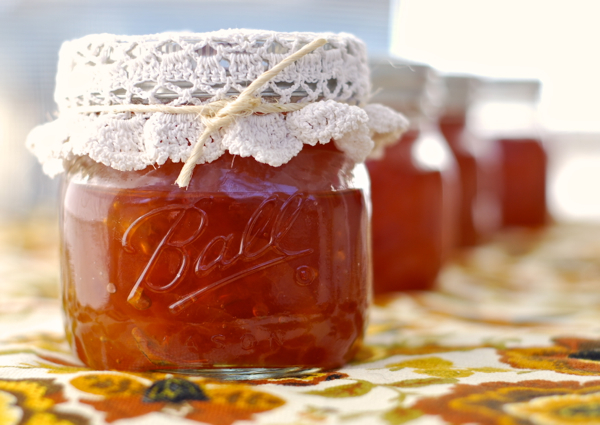 I'm in a springtime kind of mood…even though it's freezing outside and there's STILL tons of snow on the ground. Tomorrow is the official first day of Spring, so I wanted to celebrate by cooking up something bright and refreshing for teatime.
Meyer lemons are a sweet, delicate lemon that have the flavor of lemons and oranges combined. If you decide to use a different kind of lemon, just make sure you choose a good quality, thin skinned variety.
6 Meyer lemons
6 cups sugar
2 Tablespoons pure vanilla extract
Using a very sharp knife, cut ends off lemons and slice them very thin. Remove all of the seeds, and cut each of the slices into 4 pieces. Put them in a large, heavy-bottomed pot, or Dutch oven. Add 5 cups of water. Bring to a boil and then decrease heat to a simmer, uncovered, for 45 minutes. Stir often. Add sugar and vanilla, and simmer uncovered for an additional 45 minutes to an hour. Stir often so the jam doesn't stick to the bottom of the pot. Cook until it thickens and turns a light amber color. Test for doneness by taking a little out of the pan and putting it on a plate. Tilt the plate. It should slide down with some resistance. If it just runs down the plate, cook a bit longer.
Pour warm jam into steralized jars. Close the lids and turn the jars upside down on the counter. Cover with a dish towel. Allow to cool completely before turning them upright. A vacuum should have formed on the lid. Store in a cool, dry place and refrigerate once you open.
This jam makes a wonderful scone or toast topping and a delicious filling for Victoria Sponge Cake with Mascarpone cheese or sweet pastry tarts!
Enjoy!
~Melissa
You may enjoy these related posts: