Print Friendly Version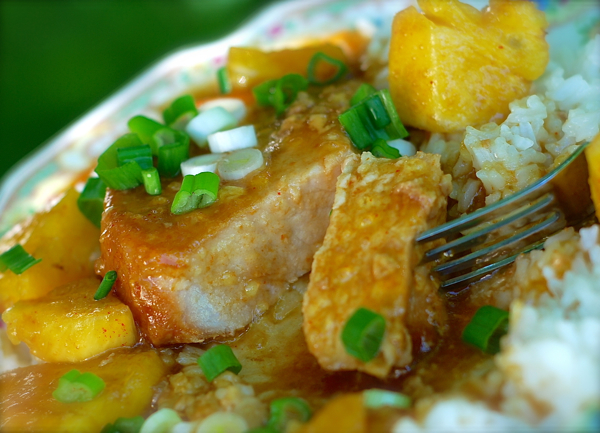 We enjoyed these amazing Hawaiian pork chops for dinner this evening. They are easy to prepare and so tender! The sauce thickens on it's own as it cooks so there's no need to thicken it after the pork chops are done cooking. I eliminated a common step in slow cooker cooking by adding quick cooking tapioca right to the sauce prior to cooking! Easy peasy!
3 to 4 lb. boneless pork chops (approximately 1/2 to 3/4 inch thick)
1/2 cup Worcestershire sauce
1 cup brown sugar, packed
1/4 cup ketchup or chili sauce
3 Tablespoons rice vinegar OR sherry vinegar
1/2 cup pineapple juice
1/4 cup quick cooking tapioca
3 large cloves garlic, minced
1/8 to 1/4 teaspoon cayenne pepper (or to taste)
3 heaping cups fresh pineapple chunks
In a large mixing bowl, combine: Worcestershire sauce, brown sugar, ketchup, vinegar, pineapple juice, tapioca, garlic, and cayenne pepper. Whisk until mixed thoroughly.
Grease the inside of a 6 to 8 quart slow cooker with a little vegetable oil. Pour half of the sauce in the bottom of slow cooker/Crock Pot. Place pork chops on sauce. Top with pineapple chunks, and then the rest of the sauce. Cover and cook on LOW for 6 hours, or HIGH for 3 to 4 hours. (I cooked mine on HIGH for 3 hours and they came out perfectly.)
Serve pork chops, sauce, and pineapple over cooked white or brown rice. Garnish with sliced green onion.
Enjoy!
~Melissa
You may enjoy these related posts: