Print Friendly Version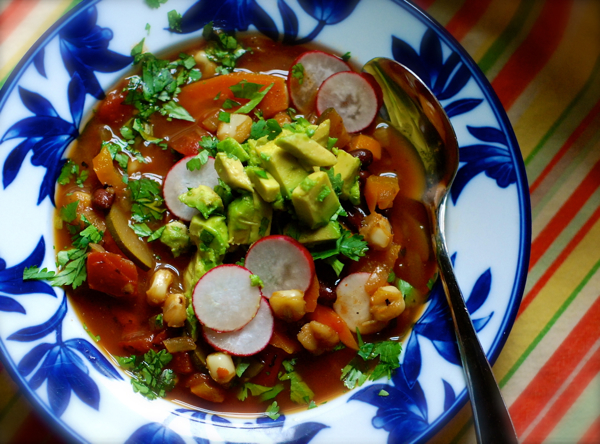 A cozy, healthy, hearty soup for a rainy day!
It's raining here in the Mississippi River Valley. There are thunderstorms happening all over the state of Minnesota. I tried to walk up to the library and ended up turning around and coming back home. Glad I had my umbrella with me!
When I returned home I decided that today is the perfect sort of spring day to make a big pot of soup, and a pot of rice to go with it.
This soup has it all. Fresh, delicious veggies, al dente hominy, hearty beans, and a spicy tomato broth that's wonderful for dipping crusty baguette into. Embellish your bowls with crunchy radish slices, and a sprinkle of fragrant cilantro, if you wish.
Oh, and this is easy! I'd say it takes about 30 minutes to prepare and cook from start to finish. Not too shabby when you're looking for something wonderful and fast to make for your hungry family.
3 large cloves garlic, minced
1 large onion, diced
2 Tablespoons olive oil OR 1/2 cup water
3 large carrots, sliced
3 cups vegetable broth
20 oz. can hominy, drained well
20 oz. diced, fire-roasted tomatoes including juice from can
1 (15 oz) can black beans, drained and rinsed well
1/2 cup dry red or white wine
1 large sweet bell pepper, seeded and chopped
1 small zucchini, diced
1 Tablespoon cumin
1 Tablespoon onion powder
1 Tablespoon mild chili powder
1/4 teaspoon chipotle powder OR 1 chipotle pepper in adobo, chopped fine
salt and freshly ground pepper, to taste
Heat the oil (or water) in a large soup pot. Once hot, add onions and carrots. Cook over medium-high heat until tender. Add garlic. Cook for 30 seconds, or until fragrant. Add the rest of the ingredients. Bring to boil. Reduce to a gentle simmer and cook with pot lid slightly askew for 20 to 30 minutes, or until all veggies are tender (not mushy.). Ladle into bowls and garnish with any of the following: sliced radishes, chopped green onion, fresh chopped cilantro, lemon or lime wedges, fresh ripe avocado chunks (or guacamole), and some vegan cashew sour cream (or your favorite sour cream if you aren't worried about eating vegan.) Serve with a scoop of white or brown rice and/or a hunk of baguette! Yum!
Enjoy!
~Melissa
You may enjoy these related posts: