Print Friendly Version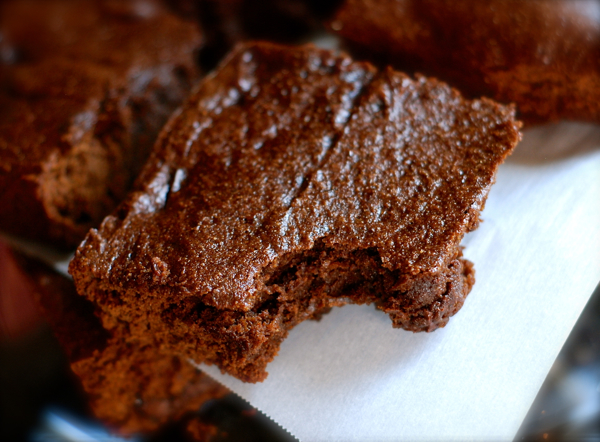 Looking for yet another way to enjoy over ripe bananas? These are SO amazing and so easy to prepare. Big, ooey gooey, fudgy, chocolaty brownies with a hint of banana. What could be better?
Note: Use your favorite, light oil in this recipe. Vegetable oil or canola oil are both perfect choices. Don't be tempted to use extra virgin olive oil or your brownies will taste weird.
~ preheat oven to 350 degrees F. ~
2 cups whole wheat flour
2 cups brown sugar, packed
3/4 cup unsweetened cocoa powder
1 teaspoon baking soda
1/2 teaspoon salt
1 cup mashed, ripe banana
1/4 cup almond milk (or your favorite milk)
1/4 cup vegetable oil (NOT extra virgin olive oil)
2 teaspoons pure vanilla extract
1 cup dark chocolate chips
1 egg (or equivalent of your favorite egg substitute)
Grease a 9×13 cake pan. Combine the flour, sugar, cocoa powder, baking soda, and salt in a large mixing bowl.
In a separate bowl, combine the bananas, milk, oil, vanilla, chocolate chips, and egg.
Add wet ingredients to dry ingredients. Mix just to evenly combine. Pour into prepared pan. Bake in preheated oven for 25 to 30 minutes, or until set.
Enjoy!
~Melissa
You may enjoy these related posts: