Print Friendly Version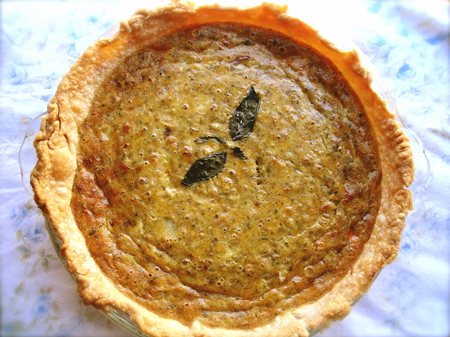 photograph by Melissa Placzek
Good morning! This is a foolproof quiche that tastes yummy and is easy to prepare. Dress it up however you like. Add mushrooms, or diced ham or bacon. I've done a combination of fresh sage, apples and sausage before and it tasted delicious! For a richer brunch pie, substitute half and half for the whole milk plain yogurt and reduce the amount of pesto by half. Happy Breakfast to you!
~gruyere & onion brunch pie~
serves 4

1 9-inch frozen pie crust
or use my recipe for homemade pie crust
1 Tablespoon olive oil
2 medium onions, chopped
salt and pepper
1/4 cup pesto
4 large eggs, beaten
1/2 cup whole milk plain yogurt
1/8 teaspoon dried nutmeg
4 oz. grated Gruyere cheese (2 cups)
a sprig of fresh basil for decoration
Heat oven to 375 degrees F. Roll out pie crust and fit into a 9 inch pie plate. Heat the olive oil in a large skillet over medium-low heat. Add onions, a little salt and pepper and cook, stirring occasionally, for 7 minutes. Stir in the pesto.
In a large bowl, combine eggs, yogurt, nutmeg, and 1/4 teaspoon salt. Stir in the onion mixture and the Gruyere. Pour egg mixture into crust. Bake for 35 to 40 minutes, or until a knife into the center comes out clean. Allow to sit for 5 minutes before serving.
Enjoy!
~Melissa
You may enjoy these related posts: