Print Friendly Version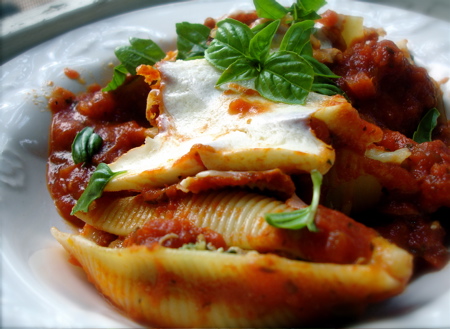 ~stuffed pasta shells~
There are few recipes in my repertoire that are requested more often than my recipe for stuffed shells. I've made this dish a LOT and over the years I'd have to say it's become darn near perfect. My grandma Darling's birthday is coming up here in a few weeks and I'm sure she'll ask me sweetly, in that cute grandma way of hers, "Honey, I know it's a lot of work, but would you mind making your stuffed shells when we come down?" To which I'll reply, "Sure grandma!" and then spend the entire morning in the kitchen on the day they're due to arrive. All I can say is it's a good thing I love to cook. 🙂
Soooo…to make this amazing dish, you're going to need a couple uninterrupted hours in the kitchen. I listen to Dean Martin croon Italian love songs while I cook Italian recipes. I sip chianti or prosecco while I mince garlic and something sort of magical happens. The sounds and scents transport me to the beautiful Italian countryside. I'm no longer standing in my kitchen in Minnesota…I'm whisked away to Tuscany where I'm preparing a huge family meal that we'll all enjoy al fresco.
preheat oven to 350 degrees F.
1 box jumbo pasta shells (I use Barilla)
1/2 lb. pancetta or bacon, fried crisp and drained well
1 lb. extra lean ground beef or sweet Italian sausage, browned
10 oz. fresh spinach, chopped, cooked, drained well
1/2 cup fresh basil, chopped fine
1 medium onion, chopped, sauteed until transparent
2 or 3 large cloves garlic, minced
1/2 cup fresh Parmesan cheese, grated
15 oz. whole milk ricotta cheese
1 egg
1 teaspoon onion powder
1 Tablespoon dried Italian seasoning
1 Tablespoon fennel seeds
1 teaspoon freshly grated nutmeg
1 teaspoon freshly ground pepper
2 jars of your favorite marinara or chunky spaghetti sauce
16 oz. fresh buffalo mozzarella cheese
4-6 oz. fresh, grated Asiago cheese
Cook the pasta shells according to package directions and drain well on clean, flour sack towels. While they're draining: Pour about 3/4 a jar of the sauce in the bottom of a 9×13 glass baking dish and pour the rest in an 8×8 glass baking dish.
prepare the filling:
In a big mixing bowl: Combine the fried, drained pancetta, browned Italian sausage, cooked-drained spinach, chopped basil, sauteed onion, minced garlic, parmesan, ricotta, egg and seasonings. Mix well.
Carefully stuff the shells with about 1 heaping Tablespoon of filling in each. Line the baking pans with the shells until all of the pasta and filling are used up. Pour the second jar of marinara over the top, covering evenly. Top with the grated/cubed, fresh mozzarella, and the fresh, grated Asiago. Cover with foil and bake for 30-45 minutes (or until the shells are completely heated through and all the cheese is melty and bubbly.) Serve with fresh basil as a garnish. Season to taste with salt and pepper. These little shells freeze beautifully.
Buon Appetito!
~Melissa
You may enjoy these related posts: