Print Friendly Version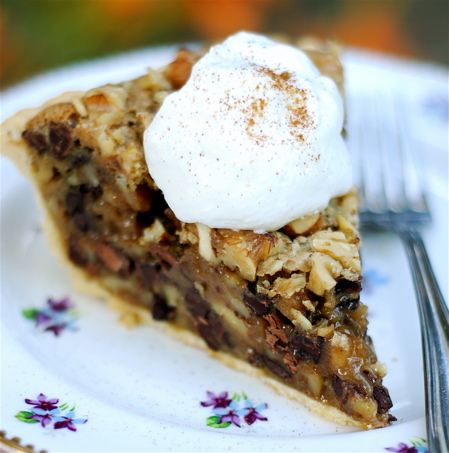 ~ chocolate chip walnut bliss pie ~
Are you a fan of ooey gooey chocolate and walnuts? If you answered yes, then you've come to the right place. This pie goes together in a jif, and is one of my favorite recipes to calm the chocolate craving.
1 deep-dish pie crust (homemade or premade is fine…I like Pillsbury pie crusts in a pinch)
1 and 1/2 cups dark brown sugar
1 cup flour
1 teaspoon baking powder
1/4 teaspoon cinnamon
3 eggs
2 cups chocolate chips
2 teaspoons pure vanilla extract
1 and 1/2 cups chopped walnuts (divided)
Brown your pie crust for 10 minutes at 400 degrees F. Remove from oven and set aside to cool a bit. Reduce oven temperature to 350 degrees F.
Combine the dry ingredients and wet ingredients separately. Then gently fold them together. Add chocolate chips and all of the nuts except 1/2 cup. Spread the filling into the browned pie shell. Sprinkle the remainder of the nuts over the top. Bake for 30-40 minutes or until just set. You may want to use a pie shield or aluminum foil on the crust if the edges begin to burn.
Place pie in refrigerator and chill completely (about 8 hours) before serving. We like this with homemade whipped cream or vanilla ice cream. Garnish with a sprinkle of cinnamon or nutmeg.
Enjoy!
~Melissa
You may enjoy these related posts: