Print Friendly Version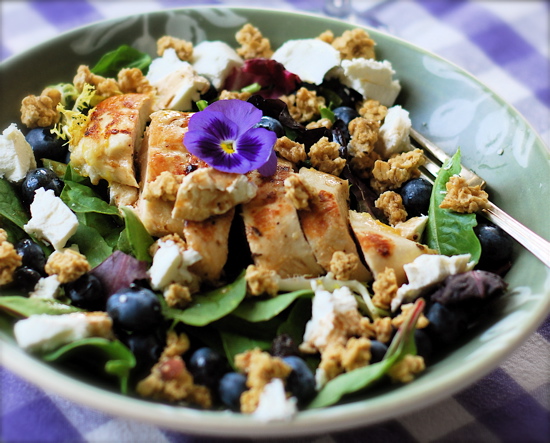 "It's certain that fine women eat a crazy salad with their meat!" ~William Butler Yeats
I wasn't quite sure how to approach this day. It started out overcast, so I didn't want to hang my laundry on the clothesline just in case it rained. Then the sun came out so I started a load of whites and told Gracie to get ready to go to the pool. By the time the load was washed, it was indeed raining. So I put the sheets and towels in the dryer and just decided to make it an "inside" day. I started dough rising for homemade bread, cleaned out my freezer and got to work cooking soup stock, because these are confirmed rainy day activities, right? right. Now the sun is shining brightly overhead, there's a big kettle of chicken veggie soup and fresh rosemary garlic bread ready for dinner…and my freezer is full of soup stock. Which is good, I guess…but now that it's hot outside I'm not really in the mood for soup anymore. I sure hope it sounds good to Jeff and Grace because I made a ton.
I'm in the mood for this blueberry crunch chicken salad that I made a few nights ago. It's full of fresh spring greens, spinach, blueberries and the surprise crunch comes from an unlikely ingredient to include in a salad…granola! Unbelievably good with the berries, montrachet and grilled lemon chicken. It was another one of those fly-by-the-seat-of my pants recipes that turned out wonderful.
serves 4 ~
a bunch of washed spring greens and baby spinach
4 grilled lemon chicken breasts
1 log of montrachet goat cheese
1 cup of good granola
2 cups fresh blueberries
your favorite balsamic vinaigrette
honey for drizzling
salt and pepper
Marinate 4 boneless skinless chicken breasts in the juice of two lemons, zest of one lemon, 1/3 cup white wine, 2 Tablespoons sugar, 3 Tablespoons olive oil, salt and pepper. Allow them to marinate, covered in the refrigerator, for 4-8 hours. Grill the chicken as you normally would.
Place a big handful of the salad greens on each salad plate. Divide the goat cheese evenly among the salads, top each with one of the grilled chicken breasts cut into strips, 1/4 cup of the granola, 1/2 cup blueberries, vinaigrette, honey, salt and pepper to taste. Garnish with edible flowers if you wish.
Enjoy!
~Melissa
You may enjoy these related posts: