Print Friendly Version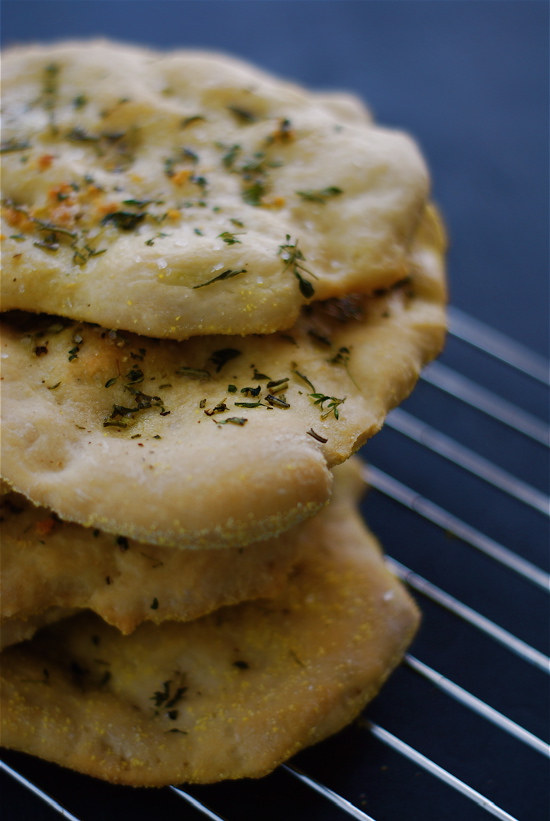 What a gorgeous day in the Mississippi river valley. Hot, but breezy, which makes all the difference. We enjoyed a lovely lunch of homemade garden veggie and chicken soup with garlic rosemary flatbread. The rosemary in our little garden plot is so happy! I read a book a few years back where the main character describes a garden behind an enchanted home in Salem MA that she had inherited from her grandmother. All of the vegetation and flowers had grown to sizes she didn't know were possible for plants…and the garden also included a slew of strange and exotic herbs. I'm often reminded of this story when I go outside to pluck herbs from my garden. It's funny the things a garden will make you think about.
What better way to enjoy fresh rosemary than to chop it up and add it to garlic flatbread? Well, the  answer to that is that there is no better way. So here you are. My recipe. My grandpa Papa's eyes got wide when he took his first bite of the bread and said "This is really good!" He had two pieces. And those pieces were big. Enjoy this yummyness with soup or salad, or slathered with chevre and chopped up garden veggies. Amazing with a good pinot grigio. I'm sipping and munching as I write to you.
2 Tablespoons butter
2 Tablespoons extra virgin olive oil
2 large garlic cloves, minced
coarse sea salt and freshly ground pepper
cornmeal for sprinkling
2 lb. homemade pizza dough, room temp.
1/4 cup freshly chopped rosemary
Follow the instructions in THIS POST for making homemade pizza crust, but double it to make 2 lbs.
Preheat oven to 425 degrees F. Melt butter and olive oil. Add minced garlic to the hot butter mixture and stir just until garlic is fragrant. Remove from heat and set aside.
Sprinkle two large baking sheets with cornmeal. divide dough into 8-10 pieces. Flatten each piece into a round about 1/4 inch thick. Arrange rounds on baking sheets. Brush each round with the garlic butter mixture. Sprinkle the chopped rosemary evenly among the flatbreads. Bake until golden brown, about 15 to 20 minutes. Transfer to wire racks to cool a bit. Serve warm or at room temp.
Enjoy!
~Melissa
You may enjoy these related posts: