Print Friendly Version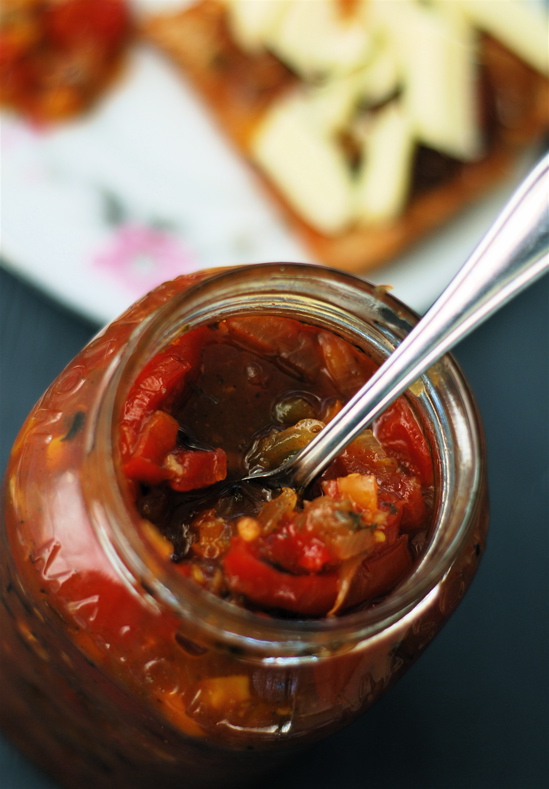 The farm table in our kitchen was groaning under the weight of so many tomatoes, so I thought another batch of tomato jam may be in order. I had just made a big batch of  THIS TOMATO JAM a couple weeks ago and we ate it in three days. This new variety is a riff on the original, but with lots of changes. What I came up with is chock full of tomatoes and a bunch of other stuff. What I really like about it is the spicy addition of garlic and red pepper flakes. If you love spicy, you've come to the right place. This makes a lovely glaze for chicken and is a wonderful accompaniment to a cheese tray, last night I had some slathered on garlic rosemary flatbread spread with a healthy portion of chevre YUMMMM!!!…oh! also good on sweet potato fries!
1 and 1/2 lb. roma tomatoes, chopped
1/4 cup sweet corn
1 large onion, chopped
1 seeded jalapeno pepper, chopped fine
1/2 cup assorted sweet bell pepper, chopped (I used green, red, orange and yellow)
2 large cloves garlic, minced
juice of one lemon
2 teaspoons lemon zest
2 Tablespoons white vinegar
1 and 1/4 cups white sugar
1 Tablespoon fresh parsley, chopped
1 teaspoon ginger
1 teaspoon cinnamon
1 teaspoon celery seed
1 teaspoon smoked paprika
1/2 teaspoon cumin
1/2 teaspoon red pepper flakes
1/4 teaspoon ground cloves
1/4 teaspoon curry powder
salt and black pepper to taste
Combine all ingredients in a saucepan. Bring to boil over medium heat, stirring often. Simmer over low heat for one hour and 15 minutes, stirring occasionally (jam should barely be bubbling.) During the last 5 minutes, add 2 teaspoons cornstarch. Stir with wire whisk until thick. Pour in jar and chill in fridge until ready to use. Will keep in refrigerator for two weeks.
Enjoy!
~Melissa
You may enjoy these related posts: