Print Friendly Version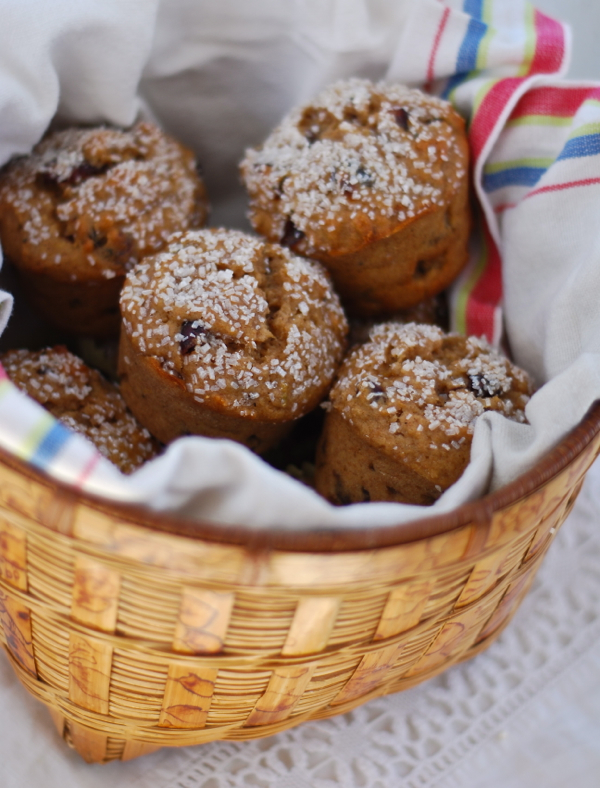 I've been having so much fun developing muffin recipes using the Demarle muffin pan. My first recipe using this pan was the Butternut Spinach Souffle Muffins (everyone seems to adore these savory muffins…great with breakfast, as a lunchbox treat, or as an accompaniment to a soup and salad supper!) The second recipe was for Apple Butter Oat Muffins (also a success…these are so good for you, and yet very tasty!) The third, Mochaccino Banana Chocolate Chip Muffins, was an attempt to create a healthy dessert muffin that uses lots of bananas (I received a bunch of emails asking me to create a recipe for using up those ripe bananas everyone has lurking in their freezer and on their counter tops.) All three were a huge success! I thought I'd try another sweet muffin recipe before I go to work on a second, savory treat. What is your favorite kind of muffin? Is there a flavor that you'd like me to try to incorporate into my next attempts? Please leave a comment and let me know. I'd love to hear your ideas and get some feedback.
Now these yummy muffins are a bit different. I wanted to create a muffin that wasn't too too sweet so it would be a good vehicle for your favorite toppings such as jam, lemon curd or honey. I really like these.
The red cranberries inspired the name. Also, haven't you always wondered what Little Red Riding Hood brought to her "grandmother" on that fateful day in the woods? I thought maybe if we took a peek inside that hamper, we'd probably find muffins of some kind.
~ heat oven to 400 degrees F. ~
In a small mixing bowl, combine:
3/4 cup brown sugar
1 cup craisins
1/4 cup chopped pecans (optional)
1 teaspoon cinnamon
1/2 teaspoon lavender blossoms
1/4 teaspoon nutmeg
In a second, small mixing bowl, combine:
juice and zest of one lemon
1/2 cup milk
1/4 cup canola oil
2 large eggs
1 cup applesauce
In a large mixing bowl, combine:
1 cup all-purpose flour
2 cups whole wheat flour
1 teaspoon baking powder
1 teaspoon salt
Once combined, mix the contents of the two small bowls together, and then add them to the dry ingredients in the large bowl. Mix just until all ingredients are moistened. Pour batter into Demarle pan or prepared muffin pans (paper-lined or sprayed with cooking spray.) Sprinkle finishing sugar over the tops if you wish. Bake for 20 minutes, or until a wooden skewer inserted into the center of a muffin comes out clean when tested.
Cool for 15 minutes before removing from pans. Transfer to a cooling rack. Cool completely. Store in an air-tight container in the fridge for 3 days or freeze.
Enjoy!
~Melissa
You may enjoy these related posts: