Print Friendly Version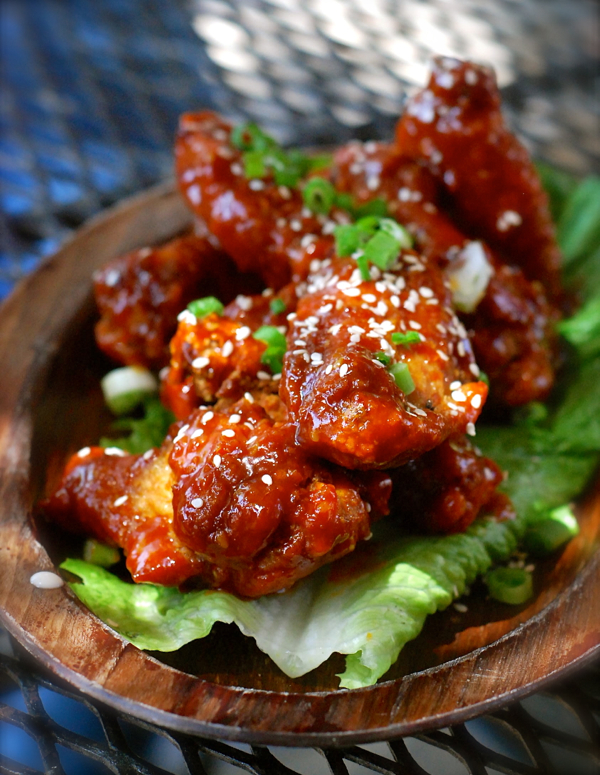 It's Friday night! We love making little appetizers for our Friday night "happy hour" and these tasty chicken wings are just the ticket. The ingredient that really puts this appetizer over the top is Lyle's Golden Syrup. If you don't have access to this syrup, feel free to substitute honey or dark corn syrup. They're not quite the same that way, but definitely still worth making.
24 chicken wings or drummettes
2 Tablespoons soy sauce
2 Tablespoons Frank's Buffalo Wing Sauce
1/4 cup tomato puree
1/2 cup Lyle's Golden Syrup
2 teaspoons garlic powder
2 teaspoons onion powder
1 teaspoon powdered ginger
1 teaspoon freshly ground black pepper
2 Tablespoons corn starch
2 teaspoons smoked paprika
toasted sesame seeds for garnish
sliced green onion for garnish
Wash and dry chicken wings and then place them in a big glass or stainless steel mixing bowl. In a smaller mixing bowl, combine the soy sauce, hot sauce, tomato puree, syrup and spices. Mix well with a wire whisk. Pour over the chicken wings, and using a mixing spoon, toss the wings with the sauce until all wings are evenly coated with the sauce. Place wings in a large baking pan, pour all of the excess sauce over the wings and bake at 375 degrees for a half hour. Remove from oven, carefully pour the sauce off the wings into a bowl. Combine the sauce with the cornstarch and smoked paprkia, using a wire whisk, until smooth. Flip wings and pour the sauce back over them. Cook at the same temperature for another 30 minutes or until wings are completely done. Place the wings in a big, clean mixing bowl along with all the sticky sauce. Toss a bit to coat, and sprinkle with toasted sesame seeds and sliced green onion.
Enjoy!
~Melissa
You may enjoy these related posts: