Print Friendly Version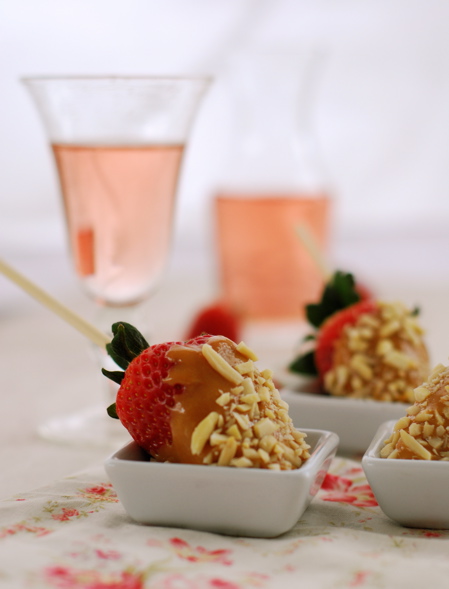 ~ salted caramel dipped strawberries & pink moscato ~
A romantic date night dessert. The sweetness of the strawberries and the richness of the salted buttery caramel are even more lovely when paired with a blushing pink moscato wine.
Remember to pat those washed strawberries completely dry before dipping them in the melted caramel, or the sauce won't stick.
20 large strawberries, washed and patted dry
40 caramels
3 Tablespoons heavy cream
1/2 teaspoon salt
1 and 1/4 cups chopped almonds
short wooden skewers
Microwave caramels, cream and salt in a microwave-safe bowl for 2-3 minutes being sure to check the sauce and stir it every 30 seconds. Be careful not to overcook it.
Place a short skewer in the green top of each strawberry and push it in so it holds the strawberry well but doesn't poke out the other end. Dip each strawberry halfway into the caramel mixture. Roll in almonds and place on lightly oiled wax paper. Allow to stand for 15 minutes. Serve immediately, or cover and refrigerate for up to 8 hours before serving.
wine pairing :: De Bortoli Emeri Pink Moscato
Enjoy!
~Melissa
You may enjoy these related posts: