Print Friendly Version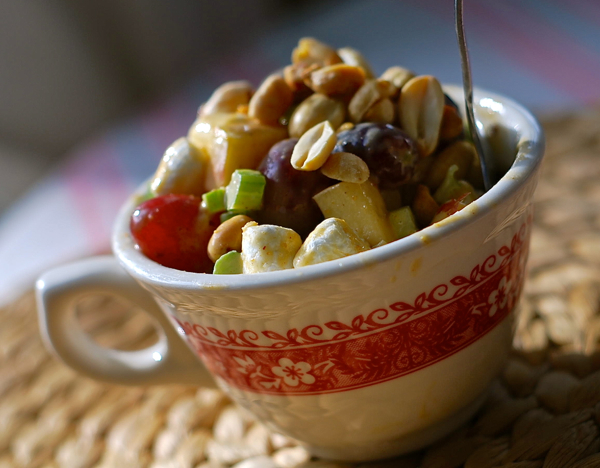 Yum yum yum! This salad is one of my favorite picnic/potluck dishes. When we're at home we serve it in teacups. When we're out and about we put it in Mason jars and pack the jars in ice until we're ready to eat.
This is crunchy, peanutty, sweet and fruity. It so good it could easily pass for dessert!
for the salad:
2 tart apples, cored and cubed
1 sweet apple, cored and cubed
3 sticks celery, chopped
2 and 1/2 cups seedless red or green grapes
1 heaping cup mini marshmallows
1 cup lightly salted peanuts
for the dressing:
1 (5 oz.) can evaporated milk
2 teaspoons honey or sugar
1 teaspoon pure vanilla extract
1/3 cup real mayonnaise
2/3 cup chunky organic peanut butter
1/2 teaspoon cinnamon
In a large bowl, combine the apples, celery, grapes and marshmallows.
For the dressing, beat the evaporated milk in a chilled mixing bowl until frothy. Add sugar and vanilla and mix together. Beat in the mayonnaise, peanut butter and cinnamon. Pour the dressing over the apple mixture and stir to coat. Cover and refrigerate. Just before serving, stir in the peanuts.
Enjoy!
~Melissa
You may enjoy these related posts: