Print Friendly Version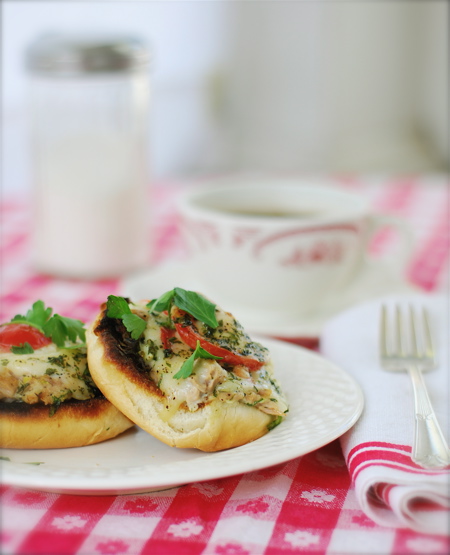 ~ new jersey diner tuna melts ~
Every once in awhile we crave diner food. We have a sweet little diner-style restaurant downtown Red Wing called Bev's Cafe, and we usually walk up there when we need a burger, melt or french fry fix. But, the last time the craving hit it was a cold, rainy day and we didn't really feel like leaving the house. So, I decided to make these yummy, easy, New Jersey-style tuna melts and they really hit the spot!
12 oz. canned tuna in water, drained well
1/4 cup real mayonnaise
1/4 cup finely-chopped celery
1/4 cup finely-chopped onion
1 Tablespoon fresh parsley, chopped
1 teaspoon white or cider vinegar
salt and pepper to taste
4 large slices rye bread, halved OR 4 hamburger buns, split
8 slices ripe tomato
16 slices swiss or white cheddar cheese
paprika and parsley for garnish
Preheat oven broiler. Mix tuna, mayo, celery, onion, parsley, vinegar, salt and pepper. Place bread or hamburger buns on a large baking sheet and lightly butter each piece. Broil for one minute, until each slice is toasty and lightly golden. Remove from oven. Spread tuna mixture on each slice, then a slice of cheese, a slice of tomato and finally another slice of cheese. Return to oven and broil for 3 to 5 minutes longer, or until the cheese is melted. Watch sandwiches closely and rotate them as needed so they all get done evenly and none of them burn. Garnish with a little sprinkle of paprika and fresh parsley.
Enjoy!
~Melissa
You may enjoy these related posts: