Print Friendly Version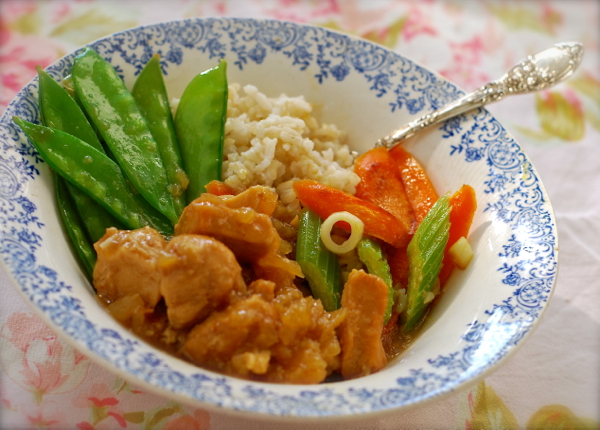 Mmmmm! I love making these dinner bowls in the summer. I make up a big pot of brown rice the day before and put it in the fridge so it's ready to warm up just prior to serving the evening meal. The stir-fried veggies go together in about 10 minutes. Easy peasy! For maximum flavor, use whatever fresh vegetables are in season at your local farmer's market, or whatever you just gathered from your garden. I love snow peas, celery and carrots with this particular bowl. Bok choy, sugar snap peas, sprouts or mushrooms would be lovely too.
serves 6
3 lb. chicken tenderloin pieces and/or boneless skinless chicken thighs
2 cups canned, crushed pineapple in heavy syrup, undrained
1 cup packed brown sugar
1/3 cup lite soy sauce
2 Tablespoons toasted sesame seeds
1 teaspoon onion powder
1 teaspoon garlic powder
1 teaspoon ginger (dry, powdered)
1/2 teaspoon white pepper
2 Tablespoons cornstarch
3 cups cooked brown rice
various vegetables for stir fry, I used:
2 cups snow peas
4 large carrots
4 green onions + tops
2 sticks celery
3 Tablespoons peanut oil
Use fresh or thawed chicken pieces. Cut them into 2 inch chunks. Place them, along with the crushed pineapple, sugar, soy sauce, sesame seeds, onion powder, garlic powder, ginger, and white pepper, in the bowl of your 6 to 7 quart slow cooker/ Crock Pot. Stir well. Cook on high for 4 hours or low for 6 to 8 hours.
When cooking time is up, remove chicken from sauce and cover to keep warm. Add the cornstarch to the sauce and whisk to combine. Cook, uncovered, in crock pot until sauce is thickened (about 5 minutes.) Add chicken back to pot and mix with the sauce.
Warm your rice and keep covered while you stir fry your vegetables.
to stir fry veggies:
Keep snow peas or sugar snap peas whole. Slice carrots and celery on the diagonal. Coarsely chop the green onions. Heat peanut oil in a large skillet or wok until shimmering, but not smoking. Add vegetables and stir-fry until firm-tender.
To serve: Place 1/2 cup of warmed brown rice in each of 6 serving bowls. (I like to use large pasta bowls for this.) Top with some of the chicken, sauce and stir fried vegetables. Top with a little extra soy sauce, hot sauce or Ponzu sauce, if you like.
Enjoy!
~Melissa
You may enjoy these related posts: