Print Friendly Version
These buttery little lemon cookies are rolled in  chopped walnuts and are so pretty with a cherry on top.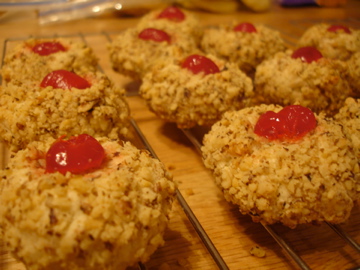 ~Maraschino Lemon Bon Bon Cookies~
yield: 24-36 cookies

2 sticks butter, softened
1/2 cup sugar
2 eggs, separated
1 Tablespoon grated lemon rind
1/2 teaspoon nutmeg
2 and 1/2 cups all-purpose flour
2-3 Tablespoons milk
1 cup finely chopped walnuts
24-36 Maraschino cherries, halved
In a mixing bowl, cream butter and sugar, beating well until light and fluffy. Add egg yolks and lemon zest and combine well. Stir in half the flour. Add the milk and beat well. Add remaining flour. Knead gently to completely blend.
Shape into balls the size of small walnuts. Press half of a Maraschino cherry into the center of each cookie. Roll in egg whites and then in walnuts. Top each with an additional cherry half. Bake at 350 degrees F for 20-23 minutes. Cool for 3 minutes on pans, and transfer to racks to cool completely.
Enjoy!
~Melissa
You may enjoy these related posts: